Everything to Know About the Galaxy A9, a Smartphone With Four Rear-Cameras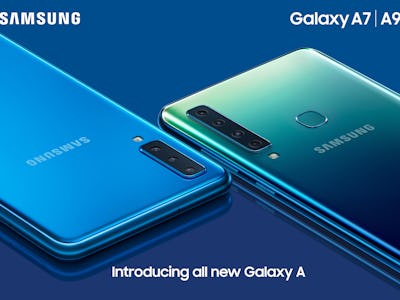 Samsung
Samsung joined the race to become the de-facto king of smartphone photography on Thursday with its Galaxy A9, the first-ever handset with a quadruple lens set up on its back panel. This ups the ante for its competitors LG and Huawei, who launched two phones with three back cameras.
Samsung took the wraps off of the A9 during a press event in Kuala Lumpur, Malaysia. The upcoming device is marketed towards a younger, globe-trotting demographic that can't dish out $1,000 for the Galaxy Note 9 or a fancy DSLR but still want something to snap pictures of their travels
This will be a new addition to the company's Galaxy A Series, its line of upper-to-mid range Android phones. The Galaxy A7, the predecessor to the A9, was just announced in September and has three lenses on the back. But Samsung has already taken it upon itself to one-up that launch.
These announcements in quick succession suggest that the Korean tech company is going all in on the multi-lens trend that has begun to proliferate in the smartphone market. What's next, a five rear-camera phone?
Samsung Galaxy A9: Price and Release Date
The quad-camera phone will begin shipping sometime in November, though Samsung has yet to divulge a specific date. Upon its release, it'll be available for roughly $700. The company only announced its European prices in Euros and Pounds, so prices may vary in the United States.
It'll come in "Bubblegum Pink," "Caviar Black," and "Lemonade Blue" color variants with 128-gigabytes of storage, which can be expanded to 512GB with a microSD cards for all of users' photo-taking needs.
Samsung Galaxy A9: Camera Features
The main camera will be a 24-megapixel sensor, doubling that of the iPhone XS Max's rear camera. This means it'll be capable of capturing images with 24 million pixels providing twice the resolution of what Apple's flagship.
The three remaining cameras are each built to carry out specific tasks. Its 10MP telephoto sensor provides a 2x optical zoom for portraits. The 8MP ultra wide-angle lens provides 120-degrees of view for tall buildings. Finally, the 5MP depth camera allows for the depth-of-field effects that will make the foreground of your image pop.
The phone houses a single, 24MP front-facing camera on the front, that's more that three times the resolution of the iPhone XS Max's. Your selfie game will enter a new era with this phone.
Samsung Galaxy A9: Specs
Its OLED display is on the larger end of this year's releases, coming in at 6.3-inches with no notch. However, its internal tech specs make it immediately clear that this will be a mid-tier device.
The A9 is powered by the Snapdragon 660 processor, while a majority of this year's premium smartphones pack the Snapdragon 845. The 845 is simply in another league in terms of computational and graphical processing. The 660 supports a maximum of 2560-by-1600 resolution, to the 845's 2400-by-2400 cap.
However, its 3,800 mAh battery capacity is a redeeming quality. The monstrous Galaxy Note 9 comes with a 4,000 mAh power cell, so the A9 will be marginally less capable than its sibling.
It's clear that this smartphone's biggest selling point is its photography tool kit. If users are on the prowl for a device with the most cameras, this would be a clear winner, though both LG and Huawei's multi-lens smartphones tout a superior chipset. Could simply upping the camera ante win over consumers?