Get 94 Percent Off a Great VPN. For Life.
VPNSecure is vital, and it's never been cheaper.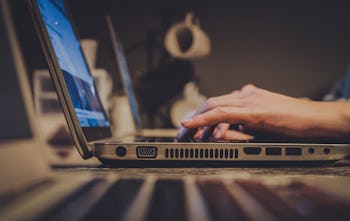 Unsplash / John Schnobrich
Getting a VPN has never been more important. Not only does it protect you from hackers, and your boss's admin spying privileges when all you want to do is kick back with a sports stream on a Friday afternoon, it also lets you stay anonymous from ad trackers, and change your location so you can watch all the British Netflix you want (seriously, British Netflix is lit.) VPNSecure is your answer to all this, and, even more importantly, it's cheap as hell right now.
Internet threats are a real thing - and surfing the web on a public connection can result in your personal data falling into the wrong hands. While most VPNs will help you surf undetected, some still maintain logs on your browsing movements, which kinda defeats the purpose of getting one in the first place. VPNSecure proudly assures that ZERO logs are recorded, so you can browse online with absolute peace of mind. And, with the Smart DNS component, you can even bypass those annoying geographical restrictions that block Hulu, and more abroad. Get VPNSecure, and you'll get a cross-platform VPN service you can trust.
Not only all that, but a lifetime of VPNSecure is currently on sale at 94 percent off its original price. Normally $450, you can get total internet protection and freedom, for life, for $24.99.