This 4K Smart TV Blows Sony Out of the Water
You don't have to pay thousands for a top-of-the-line experience.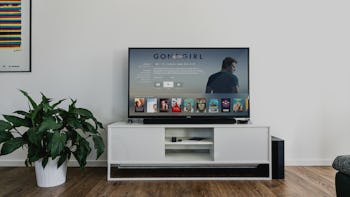 Unsplash / Jens Kreuter
There used to be a time when buying a TV that wasn't made by giants like Sony or Samsung was unthinkable. In the late '00s cheap LCD TVs flooded the markets with their massive bezels and poor as hell contrast ratios. Now, technology had advanced plenty, and the big brands are under fire by the budget TV companies offering premium experiences at a seriously low price. And we've found one of the best, and cheapest TVs out there.
Remember 3D TVs? Curved screens? Those lasted about as long as I thought they would. Honestly, most everyone will have a near-perfect viewing experience by just keeping it simple: A fairly big 4K TV with a good contrast ratio and HDR is really the only thing anyone really needs, Guess what? This TV has all of those things.
The TCL 55-Inch 4K TV doesn't come with anything fancy, because that's not what TVs are about. Here's what you need to know: It's an Ultra HD LED television with deep blacks, Roku integration, 3 HDMI ports, and it's under $500. In other words: movies are gonna look great on this thing. Games are gonna look great on this thing. Terrible TV shows that you know are terrible but stick with them anyway because it's been seven seasons and god damn it you're going to see it out now, are going to look great on this thing.
On top of that, the TCL maintains a steady 4-Star rating on Amazon from over 200 satisfied buyers, and do you know how much people love to complain about even the smallest problems with TVs? 4 stars is practically a miracle.
For gaming, streaming, or seriously immersive movie-watching, the TCL TV does everything you want a top-range television to do for a mid-range price. Usually $700, Amazon has it on sale right now for $479.99.