"The Moon Race" Looks to Pick Up Where Google Lunar X Prize Left Off
Backing the competition is Airbus and Jeff Bezos' Blue Origin.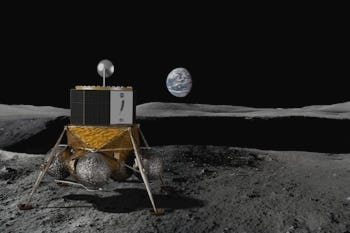 Blue Origin
Blue Origin, the aerospace firm started by Amazon founder Jeff Bezos, and Airbus, the European aerospace giant, announced this week that the Moon Race, a competition to launch a lander to the moon by 2024. The new competition looks to pick up where a previous one by Google left off.
For more than a decade, Google offered a $20 million grand prize to a company that could build and execute a lander mission to the moon, but when five finalists for the Google Lunar X Prize came up short, the money went unclaimed and the X Prize became a cashless competition.
"This literal 'moonshot' is hard, and while we did expect a winner by now, due to the difficulties of fundraising, technical and regulatory challenges, the grand prize of the $30 [million] Google Lunar XPrize will go unclaimed," said X PRIZE founder Peter Diamandis in January.
Some eight months later, a new moon race, The Moon Race, was announced, this time at the 69th International Astronautical Congress in Bremen, Germany. The multi-phase contest will offer cash rewards at the Prototype, Develop, Build, and Launch stages.
The contest signals a renewed and more ambitious quest to to the moon. The Moon Race's overarching goal is one shared by Bezos' Blue Origin, which is to establish a permanent base on the moon. And the vessel to schlep cargo to and from the moon? Bezos would like for it to be Blue Moon, the lander his company is developing.
Blue Moon is still in the "conceptual design phase," and could carry multiple metric tons of cargo to build moon bases, a goal of the company. Blue Moon contributes one piece to Bezos' dream to "enable millions of people to live and work in space," and bring heavy industry to the moon.
Blue Origin this week signed a letter of intent with German aviation company OHB SE and MT Aerospace, which assisted with NASA's SLS rocket system and Europe's ARIANE launch vehicles.
"I believe and I get increasing conviction with every passing year, that Blue Origin, the space company, is the most important work I'm doing," Bezos said in April. He has heavily invested in Blue Origin by approximately $1 billion per year of Amazon stock toward Blue Origin's endeavors.
The competition's project timeline, set to prototype by 2020 and launch by 2024, positions Blue Origin to play a key role, as Blue Moon could be ready for space landings as soon as 2023.
A.C. Charania, Blue Origin's business development director, told Geekwire at the Space Frontier Foundation's NewSpace conference in July that Blue Moon could "enable human lunar return."
How Would Blue Moon Get to the Moon?
"Blue Moon is designed to fly on any launch vehicle, including SLS, Atlas V, Vulcan and New Glenn," Blue Origin announced in a tweet. (New Glenn, Blue Origin's reusable, orbital-class rocket, is scheduled to launch for the first time in 2020.) "Delivering large payloads to the lunar surface, Blue Moon can help put astronauts on the moon — this time to stay."
The moon could also serve as a departure point for deep-space destinations. In the short term, Blue Origin is considering building a moon base where astronauts can perform research like resource extraction or take a stop before continuing to destinations like Mars. (But the astronautical community may need to figure out how to prevent cancer from long-term space voyages before establishing any lunar colonies.)
But Blue Origin isn't without competition. In a moment of deja-vu at the IAC, Lockheed Martin announced its own reusable lunar lander on Wednesday. The lander, which is still the design phase, could take four passengers and up to 2,000 pounds of cargo.
The moon has transformed from a destination to a stepping stone for astronautical exploration. Blue Origin competes to not just survive on the moon, but thrive.
At this rate, it won't be long until the 50-year-old footprints of Neil Armstrong and Buzz Aldrin gain company that may actually stick around.
While the Google Lunar X Prize didn't result in a clear winner who ventured to the moon, perhaps Bezos' effort will.