Why the First Trailer for David Harbour's 'Hellboy' Could Debut at NYCC
The first poster has arrived, now where's the trailer?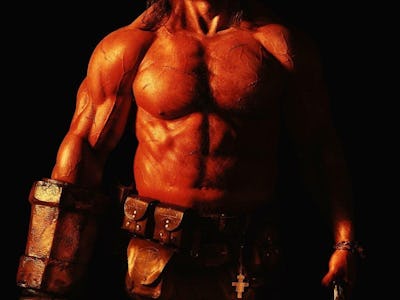 Twitter.com/DavidKHarbour
Get ready, Hellboy fans. Ever since Entertainment Weekly revealed the first poster for Hellboy on Monday, October 1, there's been speculation that a trailer is soon to follow. And there's a chance the powers that be have decided that New York Comic Con is just the right place to drop an epic teaser for the reboot, starring David Harbour as the demonic hero.
In the new poster Harbour, of Stranger Things fame, stands covered in flames with a burning sword on resting his shoulder. It's admittedly pretty badass, and the poster literally reads "legendary AF" in the bottom right corner. Plus, his horns seem to be fully grown instead of shaved down like we normally see them, which could mean his true power as the demon "Anung un Rama" has been awakened.
All that is to say, with the release of the first official poster for Hellboyand an official panel at NYCC 2018, fans are wondering whether a trailer might be released at the convention this weekend.
The Hellboy panel will take place on the Main Stage at NYCC from 11 a.m. Eastern to noon on Saturday, October 6. The movie is supposed to be released in April, but there's been little in the way of promotion besides that poster. So what better place to drop an epic trailer or teaser than at one of the geekiest events of the year?
In past canon, Hellboy is the offspring of the demon Azzael and a witch named Sarah Hughes. He's also the prophesized Beast of the Apocalypse who is destined to bring about the end of the world. No pressure or anything, of course. Hellboy can also transform into a demonic form, which gives him certain magical powers.
But will we get a first glimpse of Harbour's Hellboy in action at NYCC 2018 or not? The panel supposed to feature three of the film's stars besides Harbour: Sasha Lane, Daniel Dae Kim, and Ian McShane. And Mike Mignola, the creator of the Hellboy character, is joining in as well. With all those heavy hitters for the franchise present, it feels like the perfect opportunity to release an official trailer for the devoted fans in the audience.
Hellboy will be released in theaters on April 12, 2019.