Tesla Model 3 Hits Record Quarterly Production Rate Despite 'Delivery Hell'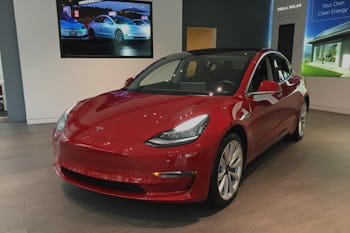 Flickr / mariordo59
Tesla produced a staggering number of electric cars in the third quarter, signalling an end to the "production hell" that plagued the first few months of Model 3 deliveries. The results, announced on Tuesday, come as CEO Elon Musk warns of a new series of issues as part of "delivery logistics hell."
The results showed that Tesla produced a total 80,142 vehicles in the quarter, with 53,239 Model 3s and 26,903 Model S and X vehicles rolling out, with over 5,300 Model 3s produced in the last week of the quarter. These figures set a new all-time high for production, 50 percent more than the record set in the previous quarter. Deliveries reached 83,500 vehicles, with 55,840 Model 3, 14,470 Model S and 13,190 Model X. That means third quarter deliveries matched around 80 percent of total deliveries in the entire previous year of 2017.
See more: Elon Musk Touts New Tesla Delivery System: "This Is the Future"
The results are a big win for Tesla, which entered what Musk referred to as "production hell" after the Model 3 entered production in July 2017, with a backlog of nearly half a million $1,000 reservations waiting for conversion into cars starting from $35,000. The company predicted reaching a rate of 5,000 per week by December, but only achieved this rate by June of this year thanks to an over-reliance on automation.
As one hell ends, though, another begins. Musk noted this summer that the company has struggled to deliver vehicles out to consumers. Part of the plan to resolve this is direct-to-consumer deliveries, with sealed trucks moving the car straight from the factory, saving on plastic waste as well as speeding up turnaround times. Musk first demonstrated the system last month. Tesla is also building its own car carriers to send out vehicles.
Expect more details about Tesla's big third quarter production rate, plus more news about where the company moves from here, when it announces its next quarterly results around the start of November.
Under the hood, those Model 3s are also gearing up for a big new update to the semi-autonomous Autopilot system.