Tesla Model 3 Delivery Estimates Hint at Even Cheaper Version Coming Soon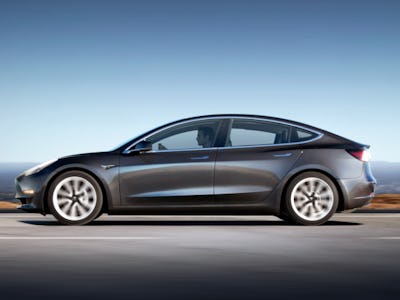 Flickr / nordique
Tesla may be gearing up to start shipping an even cheaper Model 3. A new estimate on the company's website shows it may start shipping a version of its entry-level car with a shorter battery range in the first three months of 2019.
The company started production of the electric car in July 2017. While Tesla touts a starting price of $35,000, initial production focused on long-range versions with premium upgrades, which meant that prices started in practice at $49,000. Reservation holders who had placed their $1,000 deposit could either opt for the more expensive version or hold off for the cheaper models.
A post on Reddit shared by a user called "TeslaModel3Fan" on Tuesday shows the standard battery pack is estimated to start shipping in three to six months. The user, a reservation holder based in Philadelphia, wrote that they have noted the estimates dropping in line with a consistent launch window: in August the estimate showed as five to eight months, it dropped to four to seven months the following month, and then this month it reached its latest estimate.
The estimate is in keeping with CEO Elon Musk's predictions around the Model 3. In May, he said that the company could start producing a $35,000 car around three to six months after reaching a production rate of 5,000 cars per week. Tesla reached this figure at the end of June:
The standard battery offers 220 miles of range, and users can recharge with 130 miles more range in 30 minutes from one of the company's public superchargers, or reach 30 miles of range each hour from a home charger. It achieves 0 to 60 mph in 5.6 seconds and has a top speed of 130 mph. This is the version that has not shipped yet.
The long-range version costs an extra $9,000. It offers 310 miles of range, with 170 miles in 30 minutes from a supercharger, or reach 37 miles each hour from a home charger. It has an acceleration of 0 to 60 mph in 5.1 seconds and a 140 mph top speed. Tesla started shipping a "performance" edition this summer that boosts the acceleration to 3.5 seconds and top speed to 155 mph.
Note that the $49,000 de facto base price also includes a $5,000 premium upgrades package. This includes the following:
Premium seating and cabin materials with open pore wood décor.
Heated seats. All models offer a dual-zone climate control system, but this offers added warmth.
Two rear USB ports. This is in addition to the two USB ports in the front center console of every Model 3, as well as a 12-volt power outlet.
Twelve-way, power adjustable front seats, steering column and side mirrors, with custom driver profiles.
Premium audio system. The upgraded version offers more power, tweeters, surround speakers and subwoofer.
Tinted glass roof, packing ultraviolet and infrared protection.
Premium side mirrors, with auto dimming, power folding, and heating. All side mirrors are power-adjustable, but this adds extra convenience.
LED fog lamps.
A center console with covered storage, as well as docking for two smartphones. The non-premium center console only offers open storage in the center console.
While a number of these may seem essential to some buyers, Tesla could soon give users the choice to opt for a cheaper car to fit within their budget.
Inverse has contacted Tesla for further comment.