A Small University Is Helping Build the East Coast's Largest Solar Array
University of Richmond is going 100 percent solar.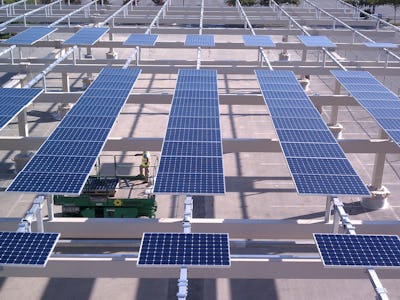 Darin Dingler
Of the approximately 5,300 universities and colleges across the US, 47 — or 0.89 percent — use renewable energy for 100 percent of their electricity use, according to the Environmental Protection Agency's Green Power Partner list. Higher education institutions achieve this feat in various ways, including purchasing green energy, installing solar thermal collectors on greenhouses, or populating campus with solar-powered trash cans.
Only one college or university, however, has so far been able to fulfill 100 percent of its electricity needs from one solar powered source, and it's a small institution at that: Hampshire College in Amherst, Massachusetts which has about 1,400 undergraduates. Hampshire College's 19-acre, on-campus solar array went fully online in January 2018 after three years of planning, construction, and many tests.
But with 3,000 undergraduates enrollment, the University of Richmond strives to serve double the undergraduate population. To achieve this, the University of Richmond plans to build a 20 MW, 47,000 panel solar array 50 miles away from campus with the help of sPower, the largest private owner of solar assets in the US. That would make it the largest array on the East Coast, outshining the 32 MW, 200-acre Long Island Solar Farm that currently holds first place and generates enough energy for 4,500 households in New York.
sPower works with a number of similarly ambitious clients, including the City of Santa Barbara and the University of Utah's Natural History Museum. Richmond's 130-array structure, dubbed "Spider Solar" as a nod to the school mascot, will call Spotsylvania County home. At full functionality, the array can produce 41,000 megawatt hours of solar energy, equivalent to the amount of electricity used by 4,909 homes in a year. Plus, the array matches the megawatt hours of electricity used by the university and sends it into the state's electricity grid in an effort to reduce the state's carbon footprint.
Renewable energy systems located on or nearby campus also give students opportunities to learn about clean energy and build communities committed to improving the field.
But not everyone is thrilled about Spider Solar's construction. Spider Solar actually takes up a fraction of the solar facility projected for construction, as sPower hopes to build a vast 3,500 acre facility over the stretch of over 6,000 acres. At this scale, Spotsylvania would house the largest solar energy facility on the East Coast. sPower intends to sell energy to other companies in the area, including Microsoft. Residents expressed concern about construction affecting the aquifer and causing a decrease in property value.
"I'm not against green initiatives, solar, wind and everything else," resident James Leigh told Fredericksburg.com. "But you've got to take care of the folks that live around it."
The intersection of technological knowledge, government policies rewarding green measures, and the slow fall of solar costs make larger projects like Spider Solar possible at a college or university level, Rod Andrejewski, Director of Sustainability at the University of Richmond explained to WTVR. Early adopters also benefit with the ability to lock in prices for the future. Switching to renewables also helps schools soften or avoid the impact of wild changes in fossil fuel prices.
"This is an amazing opportunity and we're really excited about it, but we need to change our behaviors, too." Andrejewski said. "We need more green energy, we need to stop emissions, and we need to take ownership here."