'Riverdale' Season 3 Has a Ghostly New Villain Waiting in the Wings
And it looks pretty spooky.
by Josie Rhodes Cook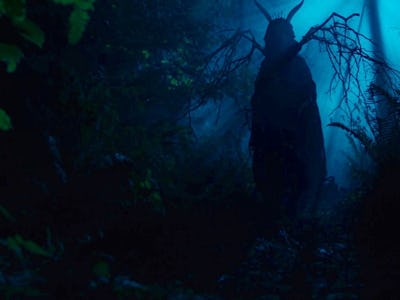 Twitter
The Black Hood killer may have been the big "baddie" in past episodes of Riverdale, but there's a new villain in town. And if a photo posted by showrunner Roberto Aguirre-Sacasa is anything to go off of, it could be the spookiest season yet.
Questions of who the real villain is on Riverdale have been a topic of discussion in the past, whether in the most literal sense or in the case of whether someone like Veronica is the true bad guy. But before this third season of Riverdale even starts, fans already have some idea of what evil being will wreak havoc on Archie and the gang this year, and it's all thanks to Aguirre-Sacasa's decision to share a big clue on social media.
On Sept. 26, the showrunner shared a spooky photo of what might be the gang's next big nemesis on Riverdale, and captioned it, "G is for Gargoyle King, gruesome, gory, grim, and gnarly. His reign on #Riverdale begins on 10/10 on the CW. 14 days away! 🐍🗝🔥🃏🎲." It's really anyone's guess what all those random emoji mean, but he straight up named the mysterious figure as Gargoyle King, and it definitely looks pretty "grim" to us.
At the start of Season 3 of Riverdale, things are already looking pretty bad for the gang. Archie's murder trial will be resolved in the premiere, ComicBook.com reports, but a teenager possibly being imprisoned for murder is still kind of a dark turn for a show original based off the Archie comics. And now it looks like there might be actual, supernatural monsters showing up in town, in addition to the shooting from Season 2. So "grim" does seem to be a good way to describe the show these days.
Fans first saw the Gargoyle King in a promo for Riverdale Season 3, but the figure wasn't named until Aguirre-Sacasa's tweet. The glimpse of the Gargoyle King from the promo, and now in this tweet, suggest he's not here to bring sunshine and light.
There's always a chance the Gargoyle King is just someone from Riverdale running around in a weird costume, or from Greendale, a neighboring town on the opposite side of the Sweetwater River that's home to Sabrina Spellman. But there's only so much crossover potential there, since Riverdale is on the CW and The Chilling Adventures of Sabrina is a Netflix series launching later this month.
No matter who or what this new villain in Riverdale really is, Season 3 of the show just got a lot more interesting.
Riverdale premieres Wednesday, October 10 at 8 p.m. Eastern.