Windows 10 Middle-Finger Emoji Is the Future of Fuck You
And in six colors, nonetheless.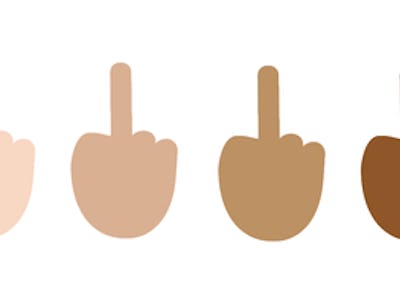 Emojipedia
Today marked the launch of Microsoft's newest OS: Windows 10. In addition to other welcomed features, such as the return of the Start button, Microsoft has brought the middle finger emoji to the world, Yahoo notes. Microsoft has also followed Apple's lead, introducing diverse emojis, including a neutral grey skin tone for when the person you're flipping off identifies as "corpse."
The emoji has room for improvement: It looks like an apple with an erect stem, or maybe a Pac-Man ghost melting. You also can't use it directly. Instead, you have to copy and paste it from the Internet, according to Emojipedia. This happy step toward chummy vulgarity, however, hopefully means Apple will, per its custom, take an existing idea and popularize it for the true masses. I, for one, am confident that the middle finger emoji is the anti-hero we need for Sony's planned emoji movie.