The World's Largest Asset Manager Will Now Let You Invest in Inclusivity
Everyone's getting into socially responsible funds.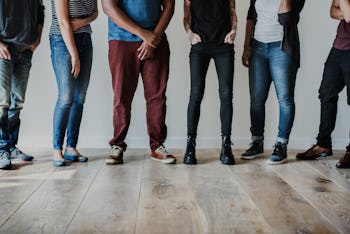 Unsplash / rawpixel
In this economy, coming up with any money to invest at all feels like a pretty big win. But for people who'd rather not invest in say, oil fields or arms manufacturers, making an extra deposit to the old company 401(k) can feel a bit like a two-edged sword. After all, your spare change could very well be getting put to work in ways that feel far less worthy than fattening the bottom of your favorite bartender's tip jar.
Fortunately that's changing. Since the mid-nineties when the idea of socially responsible investing first began to take off, some $8.7 trillion has migrated to quote-un-quote "responsible investments." But the options are also limited, with the first U.S. fund that highlights gender diversity launching last December.
This creates a bit of a problem for people who care a lot about diversity and inclusion. After all, many solar panel manufacturers would probably rank quite high as far as contributing to environmental sustainability efforts. But would you describe one such company that, say, doesn't make it a habit to promote women or people of color into leadership roles as "socially responsible"? Probably not.
Efforts to make it easier for consumers to invest in companies that align their values took a big leap forward on Monday, after the financial services giant BlackRock — the largest asset manager in the world — announced that alongside Thompson Reuters it would be launching the first ever fund that lets you invest in companies making strides toward greater diversity and inclusion.
"Diverse teams make better decisions, and this is ultimately good for investors," said Rachel Lord, Head of EMEA at BlackRock, in a statement that was emailed to Inverse. "We are launching this Fund at a time when a spotlight is firmly on companies to show what they are doing to improve diversity of their workforce, and as investors demand new funds to express specific preferences within their portfolios."
How To Invest Your Money Responsibly
The new fund is called the iShares Thomson Reuters Inclusion & Diversity UCITS ETF and will track an index that Thomson Reuters has maintained for the last three years. Exchange traded funds are like mutual funds in that they let you invest in a number of different companies when you buy a single, often relatively low-priced share. That lets you make bets on bigger trends without risking too much money on a single company.
To develop their diversity and inclusion fund, Blackrock and Reuters will start with a group of about 2,000 companies which they then whittle down to 100 using 24 metrics, for example diversity or the number of news controversies.
The fund's components aren't yet available, but some of the companies that have ranked high in Reuters' ranking in the past include Swiss pharmaceutical giant Novartis, the consultancy Accenture, and the booze-conglomerate Diageo, according to a promotional video.
It's an important step in making sure that free market pressures push companies into having more equitable policies. Few members of the Fortune 500 share their data about corporate leadership, but of those that do roughly 72 percent of the top positions were held by white men, according to Fortune.
If any of them were hoping to tap into BlackRock and Reuters' new crop of inclusion-minded investors for capital, they'll all have to get a whole lot better.