A Pennsylvania High Schooler Is Showing Girls They're Brave Enough to Code
"You just have to keep on fixing it."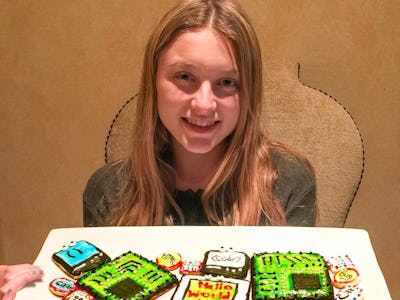 Code With Lilia
When Lilia Becker took a JavaScript class in the summer after her freshman year of high school, there was only one other girl in the program. The experience was memorable, not just because it expanded her growing computer coding repertoire but because it led her to realize one of the biggest problems in STEM — and find a way to fix it.
What the JavaScript class made clear to Becker, now a junior at the Shipley School in Bryn Mawr, Pennsylvania and founder of the coding tutorial website CodeWithLilia.org, is that women are underrepresented in STEM occupations. In fact, women in STEM experience higher rates of gender-based discrimination than those in the rest of the workforce, a disparity that tends to drive women out of STEM professions. And, as Becker saw first-hand, this trend can start as early as high school.
"I saw that there was a big gap in the STEM field and women's involvement," Becker tells Inverse.
But she's not letting existing obstacles get in the way of her interest in coding, which began when she took a course on the basic programming language Scratch in the sixth grade. In true coder fashion, she is finding ways to rewrite the script.
Between regular high school obligations, Becker, motivated by her experiences, now uses her free time to teach other young women to code. Her website hosts a handful of short coding tutorials that introduce users to JavaScript, HTML, block coding, and Python. She volunteers with Tech-Girls, an organization "with a mission to empower girls to imagine and achieve their future dreams in our tech-savvy world." In one of Tech-Girls' many workshops, Becker taught a class on TinkerCad, a design program often used for 3D printing, in the summer of 2017.
"They made bracelets, they designed them. I think they were just so excited to see that they'd created it on their own," she says. "And although they followed our instruction, they got to design it on their own. It's not something you really learn about in school."
This is a common theme when Becker talks about coding. To her, computer science encourages a different type of thinking than she uses in school. She understands that the skills she's picked up while pursuing her interest in coding are better representations of real-world job challenges than the work she does in school.
"In school, you don't have as much room to make mistakes or errors and keep on trying again," she says. "If you get a D on a test, you got a D on the test, and there's nothing really to say about that. It's just kind of over. But when you're coding, you're not going to get it right the first time. There's always bugs. It teaches you more about determination, more like the real world." According to Ellen Fisher, the executive director of Philadelphia's Young Entrepreneurs Academy, Becker has been showing that determination for years.
When they first met, Becker was a sixth-grader taking a class at the YEA in which students were expected to pitch a business idea to investors and design a product.
"We adults can often learn from our students, and she was one of those students," Fisher tells Inverse. "She was making a very complicated site, getting all these people to post their musical talent online and then having all their friends vote." The project even required Becker to consider factors like building traffic capacity and even advertising capability.
"If you gave her a roadblock, she would just tap tap tap on the computer really fast and say, 'Oh, what about this?'" recalls Fisher. "She would always come back with another way of looking at something."
Rather than take those experiences for granted, Becker is constantly finding new ways to give back to the community that helped her grow. She's stayed connected to YEA and currently serves on its alumni council, building a page on the website to promote the alumni.
"She did all that coding herself," says Fisher. "It's not just that she did the technical piece, it's that she took the initiative to reach back and give back."
Years after taking part in the program, she returned to YEA to teach new students. "I think they liked it," Becker recalls humbly. Fisher is less modest about Becker's success: "She really commanded the room. Her enthusiasm for teaching people tech, to not be afraid, and to at least put your toe in the water, was infectious."
Becker's enthusiasm for other people's enthusiasm is part of what makes her such an effective teacher and advocate. She shows other young women that STEM isn't just about their skills, it's about trusting their capabilities and being brave enough to show up to learn in the first place. Becker understands how daunting it is for girls, excited to learn a new skill, to look around a classroom and see only male students. She's hoping to create a world where that doesn't have to happen.
"They're so excited when they learn," she says of the young women in her classes. "They're not becoming experts, but they feel such a sense of pride when they try out what they made on their own."
"What I've learned with trying to create little programs is that it's not going to work the first time, usually, but you just have to keep on fixing it," she says. And she shows no signs of slowing down.
This fall, in addition to teaching another class at the Young Entrepreneurs Academy, Becker is scheduling classes at libraries in her area. She's encouraged by how well the libraries help get the word out about the classes.
"I'm really excited to see how that does," she says. "I think it'll do well."