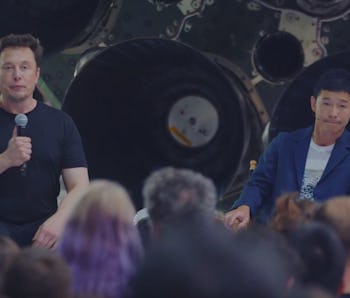 Innovation
Elon Musk Details Timeline for SpaceX BFR Sending Humans to Moon and Beyond
SpaceX
SpaceX's biggest-ever rocket is going to fly a private citizen around the moon. CEO Elon Musk detailed plans on Monday at the firm's Hawthorne, California headquarters to send Japanese billionaire Yusaku Maezawa around the moon with a group of artists, using the company's ambitious BFR. SpaceX is taking a number of clear steps to make it happen ahead of the launch.
Musk explained that the first step will be "hop tests," expected to complete a few short hops of a few hundred kilometers in altitude at the firm's Boca Chica facility in Texas. From there, the company may be able to complete high altitude, high-velocity flights with the ship as soon as the following year, in 2020, alongside tests of the booster. An optimistic timescale would place BFR's first orbital flights in the region of two to three years from now, following these tests. The team will conduct a number of test flights before putting anyone on board.
See more: SpaceX: Elon Musk's BFR May Be Positioned to Begin Hop Tests by 2019
While this is taking place, Maezawa will complete training alongside six to eight artists to prepare for the four-to-five-day trip around the moon. It's unclear at this stage whether the company will run a full unmanned lunar test flight, but Musk described the idea as "wise." The trip itself is scheduled in for 2023, around the same timeframe as plans to send two unmanned cargo BFRs to Mars to lay the groundwork for future missions.
The Maezawa trip is not the end of BFR's story. Musk explained that Maezawa is "ultimately helping to pay for the average citizen to travel to other planets," describing it as "a great thing." The firm plans to set up propellant plants in strategic locations, producing the liquid methane and oxygen required to fuel the BFR's Raptor engines. Musk explained these plants could stand in "Mars, Moon, maybe Venus, the moons of Jupiter, throughout the Solar System."
The next step is for Maezawa to choose the artists. It's unclear who he will choose at this stage, but he named John Lennon and Pablo Picasso as the sort of inspirational artists he would have loved to have taken on his trip.
The broader network of propellant plants could enable more ambitious human colonization. The BFR is capable of lifting up to 100 metric tons into orbit, enabling the establishment of a multi-city settlement on Mars.