Tesla Shares Image of the Massive Solar Panels Powering Its Gigafactory
by James Dennin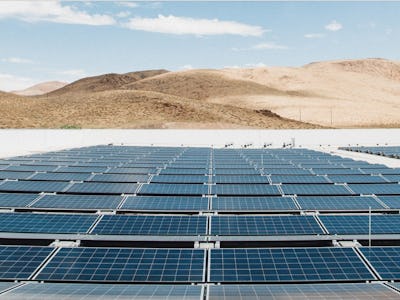 Tesla 
Tesla's massive gigafactory may only be about a third complete, but the massive solar farm that's meant to help power it is already taking shape. Tesla tweeted an update about the solar panel's progress on Thursday. The plan is for the array to eventually include roughly 200,000 panels, with a capacity of 70MW, enough to make it the largest rooftop solar array in the world.
"Gigafactory 1 will have the largest rooftop solar array in the world," the tweet reads. "Upon completion – 70MW or roughly ~200,000 solar panels."
The gigafactories are key to Tesla's ambitions as the site where it manufactures the batteries for its cars. To make around 500,000 cars a year (combustion engine automakers make around a six million annually), Tesla needs today's world supply of lithium ion batteries. The gigafactory — with two more being planned in China and Europe — is meant to close the gap, and once completed it will be the largest building in the world. Not only that, but it will also be entirely net zero energy, too, if all goes to plan.
"Once complete, Tesla expects the Gigafactory to be the biggest building in the world – and entirely powered by renewable energy sources," Tesla's website reads. "Designed to be a net zero energy factory upon completion, the facility will be primarily powered by solar, and installation is already underway."
Progress has been steady. Though the company broke ground in only 2014, the gigafactory is already the largest producer of battery capacity in the world, according to an August disclosure. The Nevada gigafactory's run rate is now more than 20 gigawatt hours, more than the rest of automakers combined.