Hurricane Florence: Hospitals in the Bullseye Are Preparing — or Closing
It's a tough decision whether to evacuate critical patients or shelter in place.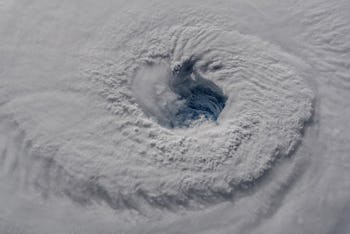 NASA
As Hurricane Florence's heavy rains start lashing the Carolinas Thursday morning, hospitals are closely following disaster plans. Even though Florence was downgraded from a Category 4 to a Category 2 hurricane, it could still be disastrous because of huge storm surges and flooding due to rain continuing over the weekend.
Just as evacuation orders were placed for more than a million people across coastal communities, medical facilities and nursing homes have also had to ensure that patients are moved to safer facilities further inland. Most hospitals stopped accepting new admissions Wednesday evening and canceled elective surgeries until further notice.
An estimated 40 out of 130 hospitals in North Carolina are in the storm's path, reported USA Today, as well as 177 hospitals, nursing homes, and medical facilities in South Carolina.
Temporary shelters have been set up for emergency care across both states. A full list of shelters in North Carolina can be found on the Department of Public Safety's website, while shelters open in South Carolina are available on the Emergency Management Department's website.
Some coastal hospitals in South Carolina, such as Roper Hospital, Hilton Head Hospital, and Beaufort Memorial Hospital, got waivers to remain open despite evacuations, because they care for critically ill patients and it would be more dangerous to transport these patients than sheltering in place.
"Whether it's a breathing machine or medicine that's going through their veins — those types of medicines and life-supporting measures would make them too unstable to move," Dede Carey, clinical manager of the cardiovascular intensive care unit at Roper told the Huffington Post.
In order to hunker down for Hurricane Florence, medical staff will sleep over in the hospital, and Roper is bringing in extra employees to make sure the generators keep running 24 hours a day. They also stored thousands of gallons of extra water on the top floor, in case the water supply gets cut.
Everyone has learnt their lesson from last year's hurricanes in Texas, Florida and Puerto Rico.
More Hurricane Florence Reports: