Ahead of Hurricane Florence, Nuclear Plants Heed Lessons From Fukushima 
"Because of Fukushima, the plant is better prepared."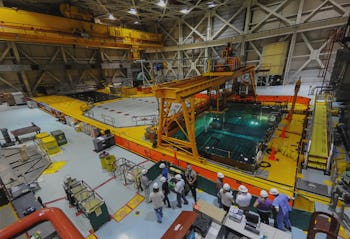 Flickr/ Nuclear Regulatory Commission
As Hurricane Florence approached South Carolina, North Carolina, and Virginia on Wednesday, officials at nuclear power plants in the storm's path prepared for the worst.
With the memory of the Fukushima Daiichi nuclear disaster of 2011 still fresh in the memory, Nuclear Regulatory Commission inspectors aren't taking any chances with the nuclear reactors that dot the southeastern states.
In an announcement, NRC representatives Roger Hannah and Joey Ledford specified four plants at which inspectors are overseeing special preparations for the storm:
Duke Energy's Brunswick nuclear power plant just south of Wilmington, North Carolina
Dominion Energy's Surry Power Station in southeastern Virginia
Shearon Harris Nuclear Power Plant in Raleigh, North Carolina
Robinson Nuclear Plant in Hartsville, South Carolina.
Nuclear plant inspectors are "working through their severe weather procedures," which include removing or securing all loose debris and equipment that could be hazardous in strong winds, as well as doing walk-down inspections of all the systems and equipment that could be susceptible to operational issues in the event of flooding.
NRC inspectors are inspecting diesel backup generators to make sure that they're in proper working order and well-stocked with fuel in case the power plants lose outside power.
It was a power outage at the Fukushima Daiichi Power Plant in the wake of an earthquake and tsunami that ultimately led to multiple reactor meltdowns, explosions, and the release of radioactive material into the surrounding environment. Floodwaters disabled most of the power plant's backup generators on which the cooling system depended. With these systems offline, the reactors overheated, causing a cascade of failures that have resulted in years of issues.
Fortunately, Duke's Brunswick plant, the one that's right at the center of Hurricane Florence's path, should be able to withstand the flooding. According to Reuters, that plant is built to withstand up to 22 feet of floodwater.
It's not just power plants near the coast that could be susceptible to flooding, though. As Hurricane Florence has been predicted to sit on the Carolinas once it makes landfall, inland facilities could be affected, though they're less likely to face the same threats as those closer to the ocean. For this reason, the NRC is focusing on inland nuclear power plants like Harris in Raleigh in addition to coastal ones.
North Carolina Governor Roy Cooper has warned residents that Florence could be the storm of a lifetime, especially for coastal residents.
"Plan to be without power for days," Cooper said, according to WECT. "The rain may last for days, and not hours. This may be a marathon, not a sprint."
Florence is predicted to arrive at the Atlantic Coast on Thursday night with winds in excess of 130 miles per hour. The National Hurricane Center warns that Florence could be a "life-threatening" storm due to its triple threat of storm surges, damaging winds, and inland flooding.
In the three states predicted to bear Hurricane Florence's greatest brunt, there are 16 nuclear reactors, but only a handful are likely to be affected by the storm.
In the wake of the Fukushima disaster, Duke Energy upgraded the Brunswick power plant's safety features, adding flood barriers and additional pumps to remove water.
"The good news is, because of Fukushima, the plant is better prepared," Dave Lochbaum, director of the nuclear safety project for the Union of Concerned Scientists, told The Charlotte Observer. "If it hadn't been for Fukushima, that vulnerability would not have been identified."
So while those who live in Florence's path will still face winds and flooding, with proper preparations in place, nuclear meltdowns will be one fear that North Carolinians, South Carolinians, and Virginians can cross off the list.