Why Exactly is the "Waffle House Index" Important to FEMA, Anyway?
by Josie Rhodes Cook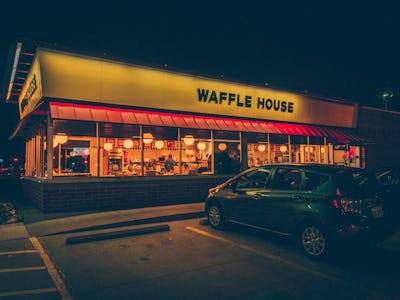 Unsplash / Simon Daoudi
To many, Waffle House is so much more than a restaurant. It's a cultural touchstone, a comforting presence on a long road trip, and an easy meeting spot for people, because they are everywhere in the South. In fact, Waffle House is so important, so ubiquitous to the area, that the Federal Emergency Management Agency (FEMA) actually monitors how Waffle Houses are doing leading up to and in the wake of a disaster . It's called the Waffle House Index, and it's totally legitimate.
As Hurricane Florence closes in on the coast, the Waffle House Storm Center is actively monitoring the storm. Yes, there is a Waffle House Storm Center. The restaurant chain often stays opens during natural disasters, in order to provide food and resources to first responders, according to USA Today. So it stands to reason that an operation monitoring that sort of effort would need a headquarters.
What Is The Waffle House Index?
In July 2011, EHS Today, a magazine for environment, health, and safety leaders, published an article about Waffle House and risk management. It explained that the "Waffle House Index" was first conceived by Federal Emergency Management Agency Director W. Craig Fugate, and "is based on the extent of operations and service at the restaurant following a storm and indicates how prepared a business is in case of a natural disaster."
How Does The Waffle House Index Work?
It's simple, really. If a Waffle House store is open and providing a full menu, the index is green, according to EHS Today. If it's open, but only serving a limited menu, it's yellow. If a location had to close (horror of horrors, since Waffle House is a 24-hour chain), the index is red.
Panos Kouvelis, Ph.D., the Emerson Distinguished Professor of Operations and Manufacturing Management and director of the Olin's Boeing Center for Technology, Information and Manufacturing in 2011, told EHS Today that Waffle House is so prepared for disasters, it's very it's rare for the index to go red. In fact, the Joplin, Missouri Waffle House once survived a tornado and stayed open. That's some serious commitment.
What It Means
In a blog post from FEMA in 2011, author Dan Stoneking explained that the index is not just about whether Waffle Houses stay open during a natural disaster, but also about when they re-open if they do close. "The Waffle House test doesn't just tell us how quickly a business might rebound – it also tells us how the larger community is faring," he wrote. If restaurants like Waffle House, as well as other important private sector businesses like grocery stores and banks, can re-open following a natural disaster, local economies can start to recover.
Did Any Waffle Houses Close Ahead of Hurricane Florence?
There have been plenty of weather reports and news articles about how dangerous the rainfall, flooding, and other elements of Hurricane Florence may be when it ravages the East Coast. But the true test, even in FEMA's eyes, may be what happens to the Waffle House restaurants in its path.
And as of Wednesday, at least one location did close in preparation for Florence: a Myrtle Beach Waffle House hit code red, according to The Washington Post. That's how you know they're expecting the area to be seriously impacted by the storm.
The Waffle House Index may sound kind of silly, but it actually serves a very important purpose for disaster preparedness and recovery. Turns out, the restaurant is good for much more than its grits and hash browns.