NASA, Roscosmos Will Meet October 10 to Discuss ISS "Sabotage" Rumors
The whole situation is a mess.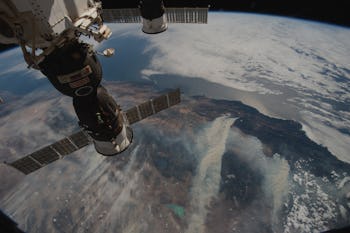 NASA
It's been two weeks since the International Space Station's crew repaired a small leak, but there are far more questions than answers.
On the evening of August 29, ground control operators in Houston and Moscow identified a pressure loss in the ISS, which cosmonauts and astronauts traced to a leak in the hull of the Russian Soyuz MS-09 capsule and repaired with a patch kit. The hole was quite small — about two millimeters in diameter — and didn't pose a significant safety risk to the crew. Though it didn't cause the space station to lose much air, it did raise eyebrows.
In the days since, Russian officials have entertained rumors of sabotage to the point that NASA and Russia's space agency Roscosmos found it necessary to issue a joint statement on Thursday announcing plans for top administrators to meet face-to-face over the matter.
This is from the statement released by NASA on Thursday:
"NASA Administrator Jim Bridenstine and Roscosmos General Director Dmitry Rogozin met for the first time yesterday via teleconference to discuss the status of International Space Station (ISS) operations in response to a request from Roscosmos."
As a result of this teleconference, Bridenstine and Rogozin agreed to an in-person meeting at the Baikonur Cosmodrome in Kazakhstan sometime around October 10.
Bridenstine already has a visit to Russia and Kazakhstan planned for that time, as the Russian Soyuz MS-10 spacecraft is scheduled to launch from Baikonur Cosmodrome on October 11, when it will carry NASA astronaut Nick Hague and Russian cosmonaut Aleksey Ovchinin to the ISS.
And while the whole joint announcement may sound extremely diplomatic and collaborative, it is hard to ignore the darker subtext. The release alludes to rumors that have swirled since the leak was repaired. Initially attributed to a micrometeoroid impact, the hull leak has since been blamed on a power drill of some sort. It's not clear whether the hole happened on Earth or in space.
"We want to find out the full name of who is at fault — and we will."
"We are able to narrow down the cause to a technological mistake of a technician. We can see the mark where the drill bit slid along the surface of the hull," Rogozin told RIA Novosti on September 3, as translated for Ars Technica. "We want to find out the full name of who is at fault — and we will."
Again, it's not clear whether this hole was made accidentally or intentionally, nor whether it was made in space or on the ground — where perhaps a patch was applied that later dried out and came loose in space, an event that has occurred on a previous Soyuz craft — but Rogozin's resolve has resulted in the formation of a Roscosmos-led commission into the matter.
Since then, Russian news outlets have speculated on possible sabotage by NASA astronauts, suggesting that the astronauts sought to create an emergency situation in order to get a sick colleague back to Earth sooner.
According to Russian newspaper Kommersant, this version of events is being considered a top possibility. But Rogozin and Bridenstine's announcement doesn't hint at this tension, instead laying the bulk of the blame on media reports.
"The Administrator and the General Director noted speculations circulating in the media regarding the possible cause of the incident and agreed on deferring any preliminary conclusions and providing any explanations until the final investigation has been completed," reads Thursday's joint statement.
For his part, Rogozin has rejected the rumors.
"The recent gossip and rumors circulating about the incident at the ISS hinder the work of Roscosmos experts and are designed to subvert the friendly relations among the crew members of the space station," he wrote on Facebook, reported state-owned Russian news outlet TASS on Wednesday. "All statements citing unnamed sources are inadmissible until Roscosmos special commission concludes its work," he wrote, referring to the anonymous sources on which the news stories fueling the rumors have relied.
Despite this public caution and diplomacy, though, Ars Technica reports that Roscosmos sources have continued to leak inflammatory theories and accusations to the Russian press. Among these leaked accusations is the leading theory, as suggested by Kommersant, that NASA damaged the module in an attempt to force an emergency evacuation for an ill crew member. The logic behind this theory is that because it would require a joint evacuation of astronauts and cosmonauts, NASA could get the evacuation it wanted without having to pay the estimated $85 million for a new Soyuz pod.
Sources for Russian news outlets cited the scratch marks around the hole, which suggest that somebody was drilling in microgravity since it would be harder in that environment to get firm footing for a drill bit.
For its part, NASA crew aboard the ISS has vehemently denied the notion. In an interview with ABC News on Tuesday, station commander Drew Feustel said those claims are ridiculous.
"The crew had nothing to do with this on orbit."
"I can unequivocally say that the crew had nothing to do with this on orbit, without a doubt, and I think it's actually a shame and somewhat embarrassing that anybody is wasting any time talking about something that the crew was involved in," Feustel said.
Needless to say, this whole thing has become a mess.
The Soyuz spacecraft is produced by Russian firm RKK Energia and is the only spacecraft model that currently carries humans between Earth and the International Space Station.
SpaceX, Boeing, and NASA are developing their own capsules. Just a month ago, NASA announced that it would test the Boeing-made CST-100 Starliner capsule in mid-2019 and it would test the SpaceX Crew Dragon capsule in April 2019. The NASA/ESA-operated Orion spacecraft, which is being built by Lockheed Martin and Airbus and would carry four people to and from the ISS, is also in development. These new capsules would reduce or eliminate US dependence on Russia's Soyuz capsule.
This he-said-she-said situation represents a rare lapse in the usually friendly relationship between US and Russian space programs, a relationship that has remained mostly cordial despite the icy diplomatic relations the countries are experiencing back on Earth. Regardless of how this mess shakes out, the US will soon be able to ferry astronauts to the ISS without Russia.