Apple HomePod Speaker Update to Introduce a Long-Awaited Siri Feature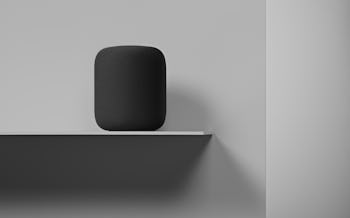 Apple
Apple's HomePod is about to get smarter. At the company's iPhone and Apple Watch reveal event, CEO Tim Cook also took the wraps off a forthcoming software update for the smart speaker. The new release will make Siri work smarter, providing the ability to "ping" Apple devices for location, make and receive phone calls, and the ability to search by songs using lyrics.
Perhaps the most important update, however, is that Siri is finally receiving the ability to set more than one countdown timer at once. The iPhone has only supported one timer ever since its 2007 introduction, while the 2011 unveiling of the Siri personal assistant also failed to introduce the ability to add extra timers. The addition of the new feature means HomePod users will be able to set several timers, like when following a slightly more complex recipe in the kitchen or for enabling users to time their washing machine while also timing their morning coffee brew.
See more: HomePod iOS 12 Beta Reveals Plans for Smarter Siri
HomePod launched in January as an Apple-focused alternative to Amazon Echo or Google Home. The $349 speaker wowed audiophiles when it arrived thanks to its ability to sense the contours of a room and shape its output accordingly, but its lack of audio inputs left reviewers less-than-impressed, while its artificial intelligence paled in comparison to Alexa or Google Assistant. The speaker claimed just 10 percent market share in its first 10 weeks on the market.
The speaker runs a modified version of iOS called "audioOS." Although its other major operating systems received news updates at the company's Worldwide Developers Conference in June, Apple failed to mention the update at the same event and marketing literature has shied away from discussing the product's internal operating system in much detail. A July beta version of audioOS suggested Apple planned to release the features soon, with Wednesday's announcement confirming its imminent arrival.
The HomePod update is set to launch in the same timeframe as iOS 12 on September 17, watchOS 5 on September 17, and macOS Mojave on September 24.