A New 'Winter Soldier' Comic Is All About Bucky's Next Big Change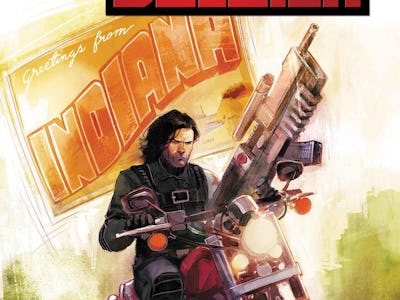 Marvel Entertainment
Bucky Barnes is riding back into the Marvel Universe a new man. In limited comic book series hitting shelves on December 5, Captain America's old pal Bucky returns as the Winter Soldier in a new role: A bonafide superhero.
On Wednesday, Marvel announced Winter Soldier, a new series from writer Kyle Higgins (Mighty Morphin Power Rangers) and illustrator Rod Reis. The comic will follow Bucky on a mission "to help others forge their own way forward," not unlike what real superheroes do.
In a statement, Higgins references Ed Brubaker's Captain America, where Bucky tried to make up for past sins, as a "catalyst" for his story on Bucky. "He's going to help others do the same thing," Higgins said. "It's Bucky's way of channeling his own pain in a productive, personal way – by helping others find the redemption that he found."
It's an uplifting story for a character with such a dark history. Originally Captain America's sidekick in World War II, Bucky resurfaced years later as a trained assassin for the Soviets known as the Winter Soldier. This story in the comics eventually became the basis for Captain America: The Winter Soldier in 2014.
"Losing his mind, becoming a weapon for the enemy, committing terrible deeds he would one day regret… it was a backstory that gave the character a world and a journey that was specific to him," Higgins said. "The fact that he used to be Captain America's sidekick informed him, but did not define him."
The cover hints also hints at a road trip story, with Bucky setting off to Indiana before going who else knows where. Also, that is a big gun.
The way Higgins describes Bucky, it's not hard to see similarities to another character Higgins recently spent two years writing: Tommy Oliver, the Green Ranger, in BOOM! Studios' Mighty Morphin Power Rangers.
Like Bucky, Tommy was a "villain" and henchman for Rita Repulsa until the Power Rangers successfully got through to him. In Higgins' story, Tommy suffered PTSD and guilt for what he put his friends through, only to encountered a more sinister version of himself from an alternate timeline. I wonder if Bucky knows anyone like that.
Winter Soldier #1 hits shelves on December 5.