How 'Batman' Influenced the Biggest 'Power Rangers'  Comic Book Crossover
Kyle Higgins says Scott Snyder gave him the right pointers on 'Power Rangers: Shattered Grid.'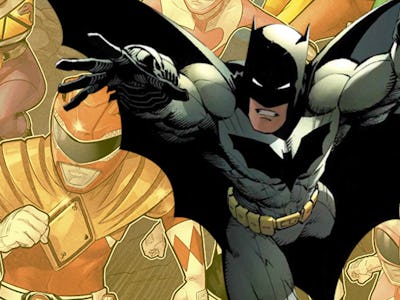 DC Comics
For the last 25 years, the Power Rangers have shown the virtues of friendship, and teamwork, and synchronized karate posing. The same might be said about the three artists who work on the Power Rangers comic book series from BOOM! Studios — minus the karate.
Kyle Higgins, Ryan Parrot, and new series writer Marguerite Bennet share a strong creative bond with Mighty Morphin Power Rangers, comic series, forged during their time writing a different, much darker superhero: Batman.
In August, Higgins ended his two-year run on Mighty Morphin Power Rangers with the release of Shattered Grid #1, an oversized issue that shows the final fight between the Power Rangers and Lord Drakkon. It's probably not a spoiler to say that the good guys prevail, because Tommy, the true Green Ranger, has his best friends beside him.
Timed to the actual 25th anniversary when Mighty Morphin Power Rangers first aired on TV (on August 29, 1993), Shattered Grid staged the biggest crossover in franchise history with nearly every Power Ranger character, ever, in an all-out war against an evil version of the Green Ranger from a parallel universe. For hardcore fans, it's a celebration of a saga two and half decades old. For everyone else, it's just awesome.
"We owe a lot to Scott," Higgins tells Inverse. "We have a lot that we can point to about us in the way that he approached comic storytelling."
Before Higgins was hired for Mighty Morphin, the University of Iowa alum was at DC Comics, writing the 2010 miniseries Batman: Gates of Gotham with Snyder. That book also included Ryan Parrot, a longtime friend of Higgins who is now writing the prequel series Go Go Power Rangers.
Then, in 2011, Higgins joined Snyder on DC's "Bat Books" as writer on Nightwing. The comic, starring Batman's former sidekick Dick Grayson, interlinked with Snyder's Batman during crossover events like Night of the Owls and Death of the Family.
Years later, Higgins had his own crossover to steer in Power Rangers: Shattered Grid. As an integral part of the franchise's 25th anniversary, there was a lot riding on Higgins to live up to fans' sky-high expectations.
Luckily, he had his Bat-training to rely on.
"Watching Scott build story and events was incredibly informative," Higgins says. "[He was] supportive of other writers who were part of his story. Not only did he make them feel creatively welcome, and necessary, he would give them beats important to the narrative that they would do in their books as well."
Indeed, a lot of Shattered Grid is made up of stories from other writers who contributed in back-up chapters and annuals. Steve Orlando (Supergirl), Tom Taylor (Injustice), Jamal Campbell (The Amazing Spider-Man), Magdalene Visaggio (Eternity Girl), Joe Quinones (America), and many more can be found throughout the 30-plus issue epic.
"The way he went out of his way so everything was additive to the narrative is very much how I approached Shattered Grid," says Higgins. "I wanted to be supportive of everyone else working on the event."
"It wasn't just the books that opened the story to Shattered Grid," says Power Rangers story director Melissa Flores.
"Kyle's willingness to work with us and put together a story that went above and beyond what we asked him made the thing so special. That's what makes this event so unique and beautiful. It's completely thanks to Kyle."
In a 2017 interview with Geeks World Wide, Snyder described his job like so: "If I do my job right I'm helping along, at least in some capacity, really singular kind of individuated writing styles, passionate writing styles and writer's voices."
Marguerite Bennet, who takes over from Higgins on Mighty Morphin Power Rangers with issue #31, also learned from Snyder — literally. She was his student at Sarah Lawrence College where Snyder taught graphic novel writing. From there, Snyder recruited Bennet, and after various gigs for Marvel and DC she soon made her mark with the popular dieselpunk series DC Comics: Bombshells and the ongoing Batwoman.
"I am of House Snyder," Bennet joked with Comic Book Resources in 2013.
Though the Power Rangers inhabit a different universe of superheroes than DC, it's not hard to see the through-line that begins with Batman. To Higgins, this was all the more clear after a very recent look at Mighty Morphin Power Rangers #31, the forthcoming first issue from Bennet.
"It's such a smooth baton handoff," Higgins says. "That really speaks a lot to not only I think our friendship, but our creative chemistry and that to me comes out of the work we did at DC."
Snyder has equally pleasant things to say towards his former proteges:
"I learned just as much from them as they did from me," Snyder told Inverse in a brief statement. "It's been a joy and a thrill to watch their careers grow!"
Mighty Morphin Power Rangers: Shattered Grid #1 is in stores now. Issue #31 will be released on September 26.