Tesla's iPhone Wireless Charger Set to Return With a Welcome Surprise
It's gone down well with fans.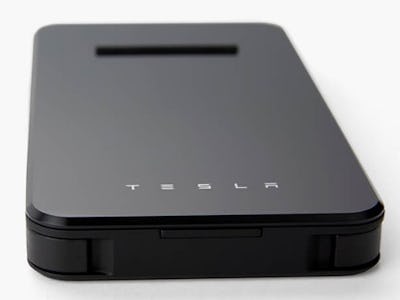 Tesla is bringing its iPhone charger back, but with a difference. The electric car maker debuted a Qi-supporting wireless battery pack on August 29, only to pull it from the shop hours later. On Monday, it emerged the charger would return to the store with a welcome $16 discount.
The charger was first announced with a $65 price tag, now dropping to $49, with its key focus that it uses the "same design language" as its other products, making it reminiscent of a miniaturized Powerwall home battery. Buyers of the first lot of chargers informed The Verge that Tesla had sent out an email, explaining they would receive a refund to the equivalent of $16 plus local sales tax. The company opted to bring the item back "due to strong customer demand," after the first batches sold out. Tesla was able to meet this discount "by producing higher quantities."
*See more: Tesla Quietly Launches iPhone Wireless Charger Styled Like Mini Powerwall
Tesla's design won't be breaking any technological barriers, but it offers a nice set of features for fans of the company's design with casings available in both black and white. It has a built-in USB-C cable for charging an Android, a Qi charging pad to top up newer iPhones or other supported devices, and a USB-A plug to charge up everything else. The battery offers around 6,000 mAh of power, which compares favorably to the iPhone X's 2,716 mAh capacity.
However, those looking to charge up on the move may be disappointed to find that the wireless charger only supports up to five watts of power, whereas newer iPhones offer support for up to 7.5 watts. A previous analysis found that newer "fast chargers" can replenish an iPhone 8 Plus to 23 percent battery in half an hour, while a regular charger will provide around 16 percent over the same time.
Tesla's wireless charger is expected to return to the store on an as-yet unclear date. With its speedy return to the store after its last appearance, expect more news soon.
Of course, while the automaker is better known for its electric cars, the tiny battery will do almost nothing for a Model S 60D's 270Ah battery.