Top 'Smash Bros. Ultimate' Leaker Teases 4 New Characters
We may finally know which new Pokémon is joining the fight.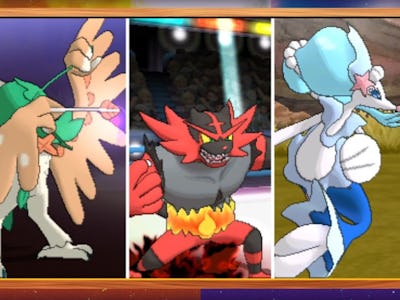 The Pokémon Company
Nintendo delayed its big Direct presentation last week (which may or may not have included some big Super Smash Bros. Ultimate roster reveals), but in the meantime there are plenty of leaks to discuss. According to Vergeben, one of the top Smash Bros. Ultimate leakers around, there could be at least four more characters coming to the fighting game.
Vergeben has been right before (he accurately leaked the additions of both Ridley and Simon), but he's also got a few things wrong or failed to predict other Smash Bros. Ultimate newcomers entirely. So take this with a grain of salt and try not to get too hyped. Ready? Let's dive in.
Smash Bros. Ultimate Leaks: Incineroar (Pokémon Gen 7)
Rumors that Nintendo would add a new Pokémon to the Smash Bros. Ultimate roster to celebrate Gen 7 (that's Pokémon Sun and Moon) have been floating around for a while now. Previous leaks claimed it definitely wouldn't be Decidueye (one of three starter final forms from the game), but beyond that, the pocket monster's identity was a total mystery.
However, recent leaks from Vergeben suggest that the mysterious Pokémon could actually be Incineroar (the final form of Gen 7 starter Litten). This powerful fire cat Pokémon would make a pretty awesome addition to Smash Bros. Ultimate, though Vergeben notes that he's not extremely confident about this one. So try not to get too excited for now.
Smash Bros. Ultimate Leaks: Ken from Street Fighter
Another leak from Vergeben suggests that Super Smash Bros. Ultimate could add a second Street Fighter character to the roster to join Ryu. Unfortunately, it's not exactly a new character.
Instead, it sounds like Ultimate could add Ken Masters, Ryu's best friend and sometimes rival in the series. Vergeben also notes Ken could be an Echo character, presumably making him a carbon copy of Ryu with one or two small differences. Then again, at least it's not just Evil Ryu, right?
Smash Bros. Ultimate Leaks: A New Square Enix Character?
Vergeben also claims that Nintendo could partner with Square-Enix for a new roster addition in Super Smash Bros. Ultimate. That's in addition to Cloud, who was introduced to the franchise for Smash Bros. Wii U.
It's unclear which character this could be, but one popular guess is Geno, the living puppet from Super Mario RPG. Not only is Geno a common fan request from Smash, but he also belongs to Square Enix. The developer invented the character as part of Super Mario RPG, which launched for SNES in 1996.
Smash Bros. Ultimate Leaks: Isabelle
Finally, Vergeben still maintains that Isabelle of Animal Crossing fame is still a lock for Smash Bros. Ultimate, but there's a twist.
According to the latest leaks, Isabelle might actually be an Echo fighter. So instead of a totally new character, we might just get a rehash of a current roster member. Presumably, Isabelle will be an Echo of Villager (also from the same series), but that's just our best guess.
Super Smash Bros. Ultimate launches December 7 for Nintendo Switch.