Selina Kyle Has a Gadget Fail in Exclusive 'Catwoman' #3 Preview
Catwoman doesn't need Batman, but she sure could use his R&D lab.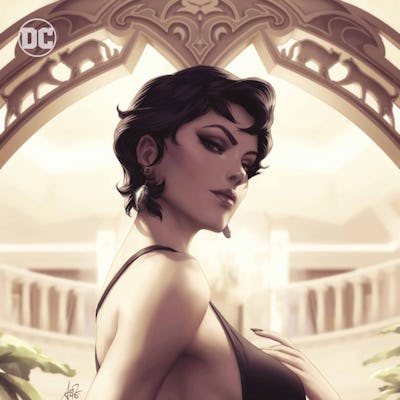 DC Comics
In an exclusive preview of Joëlle Jones' Catwoman #3, out September 12, Selina Kyle suffers an epic fail when she throws down smoke pellets to get out of a bind — and they don't work.
So, now you know what Bruce Wayne's money actually pays for.
After the wedding-that-never-was in Batman #50, Selina Kyle moved out of Gotham City to live on her own. And in her new solo series Catwoman, written and illustrated by Eisner-nominated Joëlle Jones, Selina gets embroiled in a battle of wits that, somehow, involves the family of a sick politician, Governor Creel of California.
Last time we saw Selina, she fought off a few copycat "Catwomen." Now, in issue #3, Selina has found herself at a swanky rich party packed with expensive drinks and "drugged-up octogenarians." (Sounds fun.) When the party gets a little rough, Selina does her own impression of Batman with some homemade smoke pellets courtesy of her new friend Carlos. It's just too bad the pellets don't work.
Nominated for three Eisner Awards in 2016 for her work on Lady Killer and Brides of Helheim, Joëlle Jones is a living gift to mainstream comics whose work is a visual contradiction that is at once cartoonishly stylish and unbelievably lifelike. Her solo series Catwoman has quickly become one of the best, must-read comics of the year. With issue #3 just a few days away, now is a good time to hop on.
Check out a preview of Catwoman #3, written and illustrated by Joëlle Jones, with pencils and inks co-performed by Fernando Blanco and colors by Laura Allred and John Kalisz.
Catwoman #3 hits shelves on September 12.