Amazon's Cashier-Less NYC Store Will Have a "Vibrant Store Culture," Says Job Ad
Three such stores have already opened in Seattle.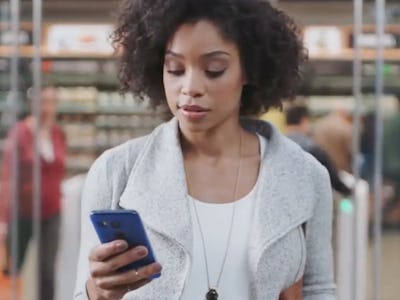 Amazon
Amazon plans to open a cashier-less Amazon Go grocery store in the New York City, according to job openings posted on its corporate website Thursday.
As first reported by The Information, Amazon is looking to hire a training lead associate, an assistant store manager, and a store manager.
A description of the store on the listing describes the operation as a "new kind of store with no checkout required."
Amazon Go is a new kind of store with no checkout required. We created the world's most advanced shopping technology so you never have to wait in line. With our Just Walk Out Shopping experience, simply use the Amazon Go app to enter the store, take the products you want, and go! No lines, no checkout. (No, seriously.)
At Amazon Go we offer a curated selection of delicious ready-to-eat breakfast, lunch, dinner, and snack options made by our chefs and favorite local kitchens and bakeries. Our selection of grocery essentials ranges from staples like bread and milk to artisan cheeses and locally made chocolates.
So far, Amazon has opened three of its Go stores; two of them opened in consecutive weeks in Seattle. In 2016, the Wall Street Journal reported that internal Amazon documents projected some 2,000 of the grocery stores. A few days later, Amazon denied that it would open 2,000 stores. The Wall Street Journal stuck by its story. There were numerous glitches in development, but the first Amazon Go store opened in January 2018.
To purchase items at the store, customers must have the Amazon Go app on their phone to enter through the doors. Then, anything they pick up is automatically added to their Amazon account. If somebody changes their mind and puts back an item, the item is automatically removed from their account, like magic. Except that it's not magic, it's the same sort of computer-aided vision technology being used to develop self-driving cars.
"What would shopping look like if you could walk into a store, grab what you want and just go?" asks a 2016 commercial for the concept, that touts machine learning, computer vision and artificial intelligence that worked to avoid lines (and people.) It's called "Just Walk Out Technology," Amazon declares in the video.
So, what does a store manager at a cashier-less Amazon Go store do? The job description says they are chiefly "responsible for creating a vibrant store culture based on customer obsession, trust, respect, continuous learning, and fun." The tasks of the job include staffing up the store with humans who will do whatever the robots cannot (presumably stock shelves and mop after a New York winter). They're also expected to offer tips on food choices. No salaries or benefits were listed for the positions.
There are also Amazon Go stores planned for Chicago and San Francisco, The Seattle Times reported in May. No dates have been set for those stores or for the New York store opening.
Catch up: Amazon Go Grocery Store Looks Like Whole Foods — Without Cashiers (January 2017)