CDC Responds to Emirates Airlines Flight 203 Sick-Passenger Disaster
As many as 100 people fell ill on the flight.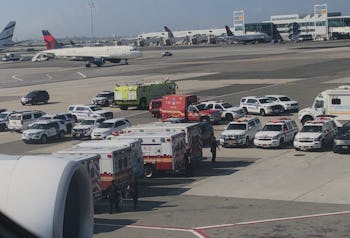 Twitter/larry Coben
A row of ambulances lined the tarmac as Emirates Flight 203 from Dubai landed at John F. Kennedy airport at 9:18 am on Wednesday morning. As many as 100 of the passengers had reported being sick with a cough and high fever, and upon landing, ten of them were brought to the hospital. The plane was held on the runway as authorities debated what to do with the ill passengers. According to tweets from passenger Larry Coben, all passengers have now made it off the plane.
There's still no word from the CDC on what the illness is. Emirates Airlines issued an official statement at 10:18 am stating that 10 passengers were indeed ill but did not provide details. In an email to Inverse, CDC spokesperson Benjamin Haynes said:
CDC is aware of an Emirates flight from Dubai that arrived this morning at JFK. Approximately 100 passengers, including some crew on the flight, complained of illness including cough and some with fever. CDC public health officers are working with port authority, EMS, and CBP officials to evaluate passengers including taking temperatures and making arrangements for transport to local hospitals for those that need care. Passengers who are not ill will be allowed to continue with their travel plans, and if necessary will be followed up with by health officials. There were approximately 521 passengers on the flight.
Meanwhile, passengers inside the plane were only partially informed of what was going on. In a series of tweets from inside the plane, Coben posted photos of emergency vehicles lined up on the tarmac. "All we have been told is that some passengers have fallen ill and we should remain in our seats," he wrote.
Eventually, the cabin crew deplaned, followed by passengers, who filled out Centers for Disease Control and Prevention forms and had their temperatures were taken right outside the plane. The passengers were transported in buses to the Passport and Customs hall, where Coben noted with interest that CDC staff did not wear masks but the airport employees did. The passengers, he tweeted, are now on their way home.
According to tweets from another passenger, Erin Sykes, many of the passengers on the flight were sick before boarding. CBS New York reports that US officials were told by representatives at Emirates' home office that they believed "this incident was caused by food poisoning." In a tweet, Sykes said: "The passengers were sick before they got on board. This is 100% not food poisoning. I asked for a mask bf we even took off."
Misinformation from the New York City Mayor's office created additional confusion about the mysterious illness. Eric Phillips, press secretary for Bill de Blasio, tweeted that the flight had stopped in Mecca, where there is a flu outbreak. This information was disqualified, however, as it was pointed out that the flight was a [direct flight from Dubai to New York and did not stop in Mecca.
Haynes said the CDC would gain more information as passengers and crew members are evaluated. Inverse will update this story as it develops.