The Future of Autonomous Drones Could Be Built on a Neon Race Track
Can A.I. best the world's best drone pilots?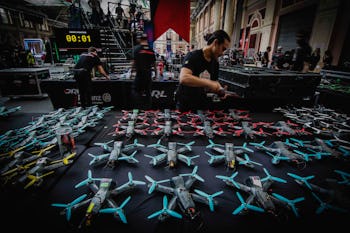 Drone Racing League
The Drone Racing League pits some of the world's best drone pilots against each other inside neon-lit warehouses that might soon become the testing ground autonomous delivery drones and deep-space exploring aircraft. On Wednesday, the fledgling drone league announced a deal with aerospace giant Lockheed Martin at Tech Crunch Disrupt in San Francisco to hold competition intended to develop the best self-flying drones.
Racing has always been a way to rapidly advance technology, as has famously been the case with cars over the decades, and the AlphaPilot Innovation Challenge appears to have a similar aim. It will give college students, developers, and drone enthusiasts the opportunity to top drone racing pros at their own game with self-flying drones during the DRL's 2018 season. Teams that sign up are eligible to win $2 million if they can develop an autonomous drone system good enough to outperform a drone piloted by a human pilot in the Drone Racing League. The first group to accomplish the feat will win an additional $200,000.
See Also: Drones are Programmed to Flock Exactly Like Birds in New Breakthrough Study
Participants will have the chance to put their machine learning prowess to the test in the DRL's Artificial Intelligence Robotic Racing Circuit in San Francisco, which will be complete in 2019. Teams will use the NVIDIA Jetson platform to turn the DRL's standardized quadcopters into a self-piloting machine. The drones cannot be preprogrammed or be under supervision when they race, leaving it up contestants to figure out how to make them adapt on the fly.
"Lockheed Martin is pioneering state-of-the-art, A.I.-enabled technologies capable of solving the world's most complex challenges — from wildfire fighting to disaster recovery to deep-space exploration," declared Lockheed Martin CEO Marillyn Hewson in a statement released ahead of Tech Crunch Disrupt. "Our AlphaPilot Innovation Challenge engages the next generation of AI innovators in our quest for generation-after-next solutions. This challenge is for those like us who believe autonomy and A.I. will shape our collective future, and who want to be part of engineering that exciting future."
Teams interested in participating in this world-first A.I. contest can sign up starting in November. Much like the standard DRL races, viewers will be able to watch these unpiloted aerial vehicles take to the skies on ESPN once the league's 2019 season kicks off.
So don't blink. The future of autonomous drones and quadcopter racing could be changed in one blisteringly-fast, brightly-lit drag race.