iPhone XS Survey Reveals Support for Buying Apple's Phone on Credit Card
The survey shows many people keen to push the costs to the side.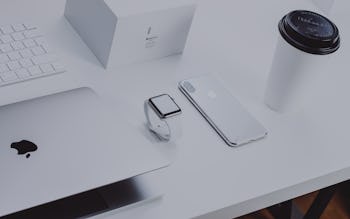 Unsplash / Michał Kubalczyk
Apple's next smartphones are almost here, and some plan to stick it on the credit card to avoid paying a possibly $999 upfront cost. A new survey released Tuesday shows a large number of Americans consider the next devices, potentially called iPhone XS, worth purchasing by racking it up as debt. It comes just days before Apple is expected to unveil its three new iPhones.
WalletHub's credit score and iPhone survey spoke to 480 people in a nationally representative study conducted between August 22 and 29. It found that 28 million Americans consider it worth going into debt to get this year's iPhone. The data is skewed toward younger people, with over 18 percent of under-45s agreeing with the statement but just five percent over-45s agreeing. In terms of buying a new iPhone, 71 percent said the best approach was to pay upfront while 29 percent favored an installment plan. Apple offers the iPhone Upgrade Program that spreads out payments for the phone and AppleCare over a 24-month period with zero percent interest and the option to upgrade after 12 months, costing $49.91 per month for a 64GB iPhone X.
See more: iPhone XS Size Comparison Shows Why the 6.5-Inch Model Could Be Best Choice
"iPhones are becoming more than phones. They are quite functional little computers," Lewis S. Davis, an associate professor of economics at Union College, said in a statement. "Economically, it makes sense to go into debt for items that deliver services over several years. … If you tend to get a new phone every three years, however, then you shouldn't take out a five-year loan to pay for it."
"Their cell phones do have a big impact on their lives day-to-day, which, when summed over the course of their lives probably does outweigh the impact of their credit score," Arthur Caplan, a professor of applied economics at Utah State University, said in a statement. "Of course, for those millennials who are planning to own a home, a car and other things that we typically acquire debt for, then they may want to rethink their priorities."
Apple will likely push the decision over to consumers when it launches the new devices at 10 a.m. Pacific time on September 12, at the Steve Jobs Theater in Cupertino. The company is set to unveil a $699 6.1-inch LCD model, an $899 5.8-inch OLED model and a $999 6.5-inch OLED model.
The company could have more surprises on the way, with leaked schematics for an iPad Pro with Face ID.