In Rooster Teeth's First Horror Movie, Fan Conventions Become Nightmares
The studio known for 'Red vs. Blue' reveals what inspired the making of its latest theatrical effort, 'Blood Fest'.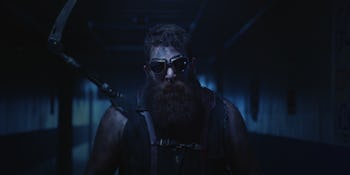 Rooster Teeth
After making its audience laugh for 15 years, Rooster Teeth is taking a stab at making them scream.
Available now on VOD and playing in select theaters, the new Rooster Teeth film Blood Fest is a tribute to all the best and most obscure scary movies of yesteryear in one comedy/horror romp. Set on the sprawling grounds of an outdoor horror festival, a group of teenagers must survive when the cosplaying zombies, killer clowns, and chainsaw psychos become real.
Written and directed by novelist Owen Egerton, Blood Fest is the third film from Rooster Teeth, the Austin-based studio better known for comedies like Red vs. Blue and the sci-fi spoofs Lazer Team and Lazer Team 2. As the studio explores bigger productions, including the upcoming anime gen:LOCK with Michael B. Jordan, Blood Fest is another example of Rooster Teeth expanding its talents.
"A lot of what we like to do with the movies and bigger productions we make is take chances," executive producer and Rooster Teeth co-founder Matt Hullum tells Inverse during an interview at RTX in August. "Things that are in the humor and style of Rooster Teeth, but give our audience something new." And after Lazer Team, "We didn't want to go right back into making the same thing."
While the story celebrates horror fandom, its production — marked by an emphasis on practical effects, tight budgets, and a moxie found only in the Austin film scene — is perhaps the greatest homage to the classic genre.
"I had this idea, a horror festival recreating all your iconic horror locales," says Egerton, sitting beside Hullum. "Horror goes to the place we thought was safe and shows it's not safe. Suburbia is safe, and Halloween shows us it's not. Summer camp, hostels, even our dreams. Any place we thought was okay actually has danger to it."
With Blood Fest, it's fan conventions that become a nightmare. How apropos that one of the first screenings of Blood Fest was at RTX, Rooster Teeth's fan convention held in the Austin Convention Center.
"When I heard the pitch, it just feels so up our alley," Hullum says. "The comedy felt like a great marriage of Owen's sensibilities and what Rooster Teeth is known for. Even though horror is a genre we had never done before, it felt like a natural jumping on point for us."
But the movie almost didn't happen. Just as the film was greenlit, a looming writer's strike began a ticking clock to the crucial script writing stage. For Egerton, this kickstarted an entire 16-day period of "no sleeping" and writing what would become Blood Fest.
"If I hadn't finished the script, I wouldn't be able to work on it officially," he says. "I wrote it in 16 days, listening to bizarre Depeche Mode in the middle of the night in 24-hour coffee shops, which was a brilliant way to be writing a script." The strike didn't happen.
In Blood Fest, Robbie Kay (Once Upon a Time) plays Dax, a horror movie uber-nerd who must escape the deadly Blood Fest with his best friends Sam (Seychelle Gabriel, Sleight), Krill (Jacob Batalon, Spider-Man: Homecoming), and Ashley (Barbara Dunkelman, RWBY).
With an estimated budget of just over $1 million and exactly 40 gallons of fake blood spilled throughout shooting, the cast and crew liken Blood Fest to a type of horror filmmaking that's only recently on the rebound, where tight budgets inspire artists to brilliance born out of limitations.
"People's expectations are different maybe 10, 20, 30 years ago," Kay tells Inverse, who cautions against oversized budgets for horror. "You lose the magic of what horror films are. Some people's favorite cult films are the ones that aren't maybe polished but have a style to it."
"It's interesting when big budget studios do horror, they end up watering things down," Egerton believes. "With big budget films, the answer to problems is financial. If the effects aren't exciting, throw money at it. At some point we hope the money purchases something."
That wasn't the case for Blood Fest. "At Rooster Teeth, there's a different solution: 'Let's take what we have, and let's use our imagination. To make it better or funnier or scarier.'"
Practical effects (from Austin institution Hawgfly) were favored over CGI, which grounded the filmmakers in their '70s and '80s inspirations. "It was paying homage to the horror movies we love," the director says. "Sometimes those effects, you can tell that's not a human being, but it has a real charm to it.
During production, Egerton suggested cutting an entire monster truck sequence that would have been too costly. "I went to Matt saying, 'I don't think we have the budget. It's too much.' Matt said, 'I think you're right. Let's trim the shoot but keep that sequence.'"
He was given two more directions: "Find a way," and "Just do it."
"Once you say, 'They can't be done,' you find a way. And your creative solutions are better than writing a check,'" Egerton says. "They can be done."
"A lot of the films that inspired me were made on a shoestring," Hullum says. "Evil Dead is a great example. They couldn't afford a steadicam, so they nailed to the camera to a sheet of plywood. That's so exciting, coming up with new solutions that make you see the world in a different way. Whatever we do next is gonna be something that challenges us, not just because it's a market opportunity but something we feel inspired to do."
He smiles a little. "That's why I didn't give Owen any more money."
Blood Fest is now available on VOD.