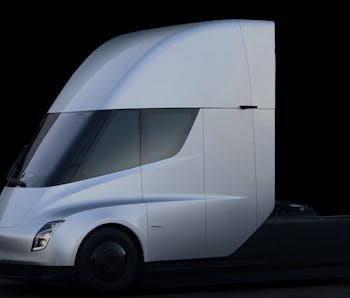 Innovation
The Tesla Semi's Mysterious Road Trip Has Been Spotted Again in Colorado 
Tesla Semi.
The Tesla Semi been the subject of a number of sightings lately in what appears to be a road trip to visit companies which have placed large orders for the electric truck that's poised to rock the shipping world. The latest was at a Supercharger in Brush, Colorado, and was shared by a Twitter user who was then amplified by the Tesla corporate account.
Prototypes of Tesla's Semi first hit the roads with cargo last March, when the Semi completed a trip between Tesla's Nevada Gigafactory and its California headquarters with a trailer attached, and carrying a shipment of battery packs. That said, the distance between the two was well within the Tesla Semi's 300 mile range. A lot seems to have happened since then, earlier this week CEO Elon Musk said the Semi could now cross the country using its network of superchargers (with some ad hoc extensions to the network).
Read More: Elon Musk Says Tesla Semi Is Crossing the Country With No Support Vehicles
It's the third in a series of Semi spottings that are much farther from Tesla facilities than what we've seen so far. A little more than a week ago, the Semi was seen visiting the J.B. Hunt headquarters in Lowell, Arkansas. J.B. Hunt is one of the largest logistics companies in the country, and one of the first big firms to make a preorder. On August 17, the Semi was spotted again, this time at a UPS facility all the way in Illinois, outside of Chicago.
Similar to the Lowell sighting, the images were circulated on social media by company employees. In both sightings, the Tesla Semi didn't seem to have a trailer attached, whereas the Colorado sighting did. In the video shared on social media, the full truck eases into a turn before making its way to the Brush Semicharger. Twitter user Erik Martin said he was asked not to photograph the charging equipment, possibly a reference to the support network that's helping to extend the Tesla Semi's range.
The Semi is expected to enter production in 2019, though many huge companies have already placed orders, not just J.B. Hunt and UPS, but also Pepsi, Walmart, Anheuser-Busch, and Noway's Posten Norge mail service.
When it eventually launches, the Tesla Semi is supposed to come in two makes, one with a 300 mile range and what that can travel for 500 miles without a charge. Routes will be connected by their own special network of special Superchargers, and the base price for the 300 mile range model will be $150,000.