DC's 'Titans' Gets Early October Streaming Premiere Date on DC Universe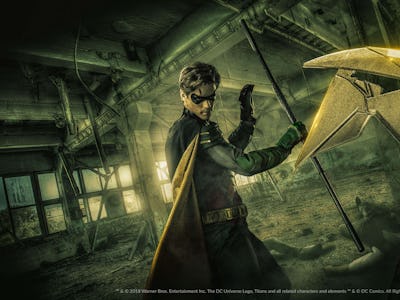 Warner Bros. Entertainment
Comic book fans who are all in on Robin telling Batman to fuck off won't have to wait long. During the unveiling of DC Universe with filmmaker and podcaster Kevin Smith, DC announced the premiere date of Titans. And it's really close.
Titans, the live-action series based on the comic book team Teen Titans, will begin streaming on DC Universe on October 12 after its premiere at New York Comic Con on October 3.
On the Wednesday night livestream premiere of DC Daily, DC revealed the user experience of the DC Universe streaming service, as well as the exclusive programming the platform will provide. The service is priced at $7.99 per month or $74.99 annually.
In addition to the live-action Titans, which will premiere weekly, the livestream also explored the highly-anticipated third season of the cult animated series Young Justice. The first two seasons of Young Justice, which initially aired on Cartoon Network, will be available to binge-watch on DC Universe. A new clip from Young Justice: Outsiders also premiered during the livestream.
The livestream also revealed the celebrity hosts of the DC Daily news show. DC All Access personality Tiffany Smith will serve as anchor of DC Daily, and will be joined by actors John Barrowman (Arrow), Harley Quinn Smith (Yoga Hosers), Samm Levine (Freaks and Geeks), geek culture personalities Clarke Wolfe, Hector Navarro, Brian Tong, DC Movie News host Markeia McCarty, and comic book writer Sam Humphries (Green Lanterns).
Titans will premiere October 12 on DC Universe. Young Justice: Outsiders will premiere in 2019.