Bad News, Elon Musk: Overconfident CEOs at Higher Risk of Being Sued, Study Finds
"... overconfident CEOs' firms are more likely to be sued via a SCA."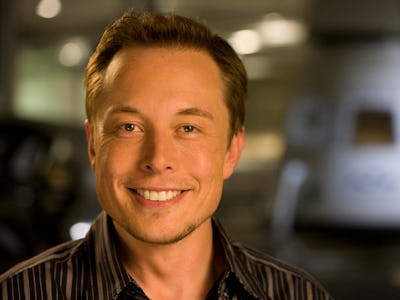 Flickr
As a corporate leader, Elon Musk is publicly very confident, but he and other self-assured CEOs should take note: Newly published research shows that overconfident senior executives are more likely to get sued.
The findings, published in a paper Wednesday in the Journal of Financial and Quantitative Analysis, a Cambridge University Press publication, suggests just that: "Overconfident managers are more likely to engage in reckless or intentional actions/disclosures that give rise to securities class actions," or SCAs for short.
The researchers, led by Suman Banerjee of the Stevens Institute of Technology, found that overconfident CEOs firms are more likely to be subject to that sort of legal action compared to other firms.
They analyzed leadership at 1,500 global companies and a Stanford dataset tracking pf 1,400 shareholder-initiated class-action lawsuits against firms over the 16-year period from 1996 to 2012. They also looked at companies' legal compliance up to six years before and after passage of the Sarbanes-Oxley Act, a 2002 law that requires diverse and independent board directors and nomination committees and auditors for companies. The law also mandates that CEOs sign off on company results.
Musk, whose confidence manifests itself in unpredictable statements on Twitter about the future of his publicly traded electric car company, Tesla, might be seen as the biggest example of an overconfident CEO.
While this is in no way a suggestion that Musk is the subject of an SCA currently, we couldn't think of a better example of a confident business leader. Musk even has a time table named after his confidence in the collective ability of his companies. His employees (as well as journalists and stock analysts) often refer to "Elon Time" as short-hand for Musk's often unrealistic schedule for completing ambitious projects.
Essentially, the team hypothesized and proved that overconfident CEOs expose their companies to SCAs. They then explored whether a lawsuit reduced a CEO's confidence and made them more cautious in the future.
The researchers found that overconfident CEOs are 33 percent more likely to be subject to lawsuits compared to others, and that the overconfidence of senior executives (besides the CEO) increased the likelihood of a lawsuit as well. To come to this conclusion, Banerjee and his team analyzed leadership rosters of 1,500 global firms, and data from the Stanford Securities Class Action Clearinghouse between 1996 and 2012. Before its publication this week, the research was first presented in May 2014 ahead of the 27th Australasian Finance and Banking Conference.
"Excessively optimistic public statements about the company"
"Overconfident executives have, by definition, an overly positive view of their ability and of their companies' prospects," the paper reports. "This would manifest in overconfident executives' making excessively optimistic public statements about the company, or failing to disclose negative information in a timely manner – believing that they might be able to rectify this period of poor performance." (Sound familiar? Musk is usually pretty optimistic when it comes to timelines for things like the SpaceX BFR and Tesla.) The researchers also classified CEOs as being overconfident if they bought stock in their own company, then lost money on it.
However, "should those statements prove to be falsely optimistic," the study notes, "the company risks becoming subject to a 10b-5 securities class action (SCA) in which shareholders sue for loss or damage arising from reliance on such information when purchasing company's stock."
There are actually a lot of questions involved with this study. Mainly, do CEOs and other executives who seem and act overconfident open up their companies to more litigation, and how do they and their companies react if they are, in fact, sued?
It does appear that CEOs who are overconfident about their firms' performance are more likely to face a SCA, according to the results of the research. But the findings also showed that a SCA made CEOs reduce their "tendency to make overconfident and falsely positive statements, or to be cavalier about omitting material information." In short, a getting sued may make an overconfident CEO a little less cocky.
Interestingly, the study also found that if a former CEO was associated with a SCA, a company's new CEO is less likely to be overconfident. Gotta keep the shareholders happy.
Being overconfident is not always a good quality in a CEO or other executive, and being sued can scare them enough to take away some of their mojo.
Abstract
Overconfident CEOs/senior-executives tend to have excessively positive views of their own skills and their company's future performance. We hypothesize that overconfident managers are more likely to engage in reckless or intentional actions/disclosures that give rise to securities class actions (SCAs). Empirical evidence is supportive: overconfident CEOs/senior-executives increase SCA-likelihood, though litigation-risk is ameliorated through improved governance, such as following SOX. Post-SCA, companies are less likely to hire an overconfident CEO. Following a SCA, overconfident CEOs appear to moderate behavior and to reduce their litigation risk.