SpaceX Announces Upgrades for Ship That Will Recover Crew Dragon Astronauts
The capsule needs to prove itself very soon.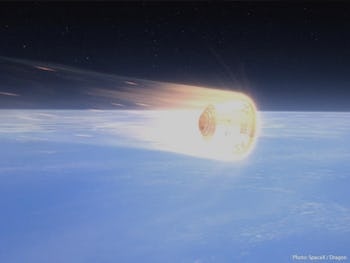 SpaceX/Dragon
SpaceX stands to be the first private company in history to launch humans past the atmosphere as early as April 2019. The company's Crew Dragon capsule has been selected to begin conducting uncrewed testing for NASA's reborn space shuttle program no earlier than November 2018, and SpaceX is gearing up by retrofitting the spacecraft's recovery ship.
The GO Searcher will be solely responsible for fishing the Crew Dragon and the astronauts that will one day be aboard out of the ocean once the capsule re-enters the atmosphere. To prepare for this crucial step, Elon Musk's aerospace company has begun modifying the ship with three big updates to streamline the recovery process.
The ship has already been performing mock recovery trials for the past year, preparing for an eventual dress rehearsal. These additions should help the Crew Dragon pass the tests that are required for it to be adopted by NASA's space program.
1. Crewed Dragon Upgrades: Helicopter Pad
A helipad is currently under construction in the central area of the vessel. This will allow for the quick and easy transport of astronauts from the capsule to Cape Canaveral. It will also serve to get engineers, doctors, and other personnel necessary for recovery efforts aboard the ship.
GO Searcher will be many kilometers off of the coast of Florida during its eventual recovery missions, so making it accessible by air is a critical step in speeding up the process.
2. Crewed Dragon Upgrades: Potential Radar Dome
A big white dome has been added to the vessel, which will likely function as means to facilities communications with Crew Dragon or radar detection.
This piece of equipment was attached toward the front end of the ship during the course of a few weeks it was in maintenance.
3. Crewed Dragon Upgrades: Hydraulic Lift
Finally, the GO Searcher will be receiving a hydraulic arm designed to lift the Crew Dragon out of the water and into the ship to be transported back to shore. This was placed at the rear of the vessel, where the capsule will come to rest in a flat area.
All three of these upgrades have the potential to improve the prep time for recovery missions as well as assist during the operations itself. We'll have to wait and see how they perform on the day of the Crew Dragon's first uncrewed test run.