Reality Winner's Record-Breaking Sentence Means New Risks for Whistleblowers
Her sentencing "sends a message" to government employees wanting to speak to the press.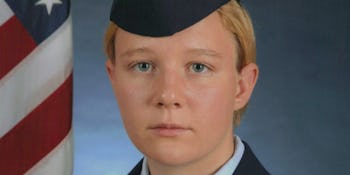 Reality Winner, the former government contractor accused of leaking a top-secret report on Russian interference in the 2016 presidential election, has been sentenced to five years and three months in prison. The 26-year-old Air Force veteran was given the longest sentence for leaking classified documents in US history, suggesting the government intends it make it harder for whistleblowers to act as resources to the press.
In June, Winner pleaded guilty after being accused of taking a report about Russian military intelligence and cyber attacks from an NSA facility and sending it to a news outlet. Winner initially faced 10 years in prison and a $250,000 fine, but after accepting a plea deal, Chief US District Court Judge J. Randal Hall sentenced her to 63 months on Thursday, along with an additional three years of supervised release.
In the wake of President Trump's former campaign manager Paul Manafort's conviction and FBI Director Robert Mueller's special investigation on Russian collusion still ongoing, rights groups are arguing that Winner should not face the unusually high sentencing for making Russia's involvement in the election public. The announcement of her sentencing was immediately met with derision from whistleblower advocacy groups, who see her action as a public service.
"Reality Winner is a whistleblower who alerted the public about a critical threat to election security," said Freedom of the Press Foundation Executive Director Trevor Timm in a statement. "It is a travesty that the Justice Department continues to prosecute sources of journalists under the Espionage Act, a statute meant for spies that doesn't allow for a public interest defense."
The Espionage Act, though intended for spies and not whistleblowers, was applied to Winner's prosecution just four months after CNN and other news outlets published a memo from former FBI Director James Comey who spoke with Trump about jailing journalists and putting a leaker's "head on a pike" to "send a message."
On the day of Winner's June 2017 arrest, The Intercept published an article based on the leaked report, detailing the Russian government's strategy to cyber attack a Florida-based supplier of voting software and over 100 election officials in the months leading up to the election. US intelligence would later confirm the Russian meddling that was outlined in the leaked report.
Winner had already spent more than a year behind bars at the Lincoln County Jail in Georgia before Thursday's sentencing, but has since asked that she be detained at the Federal Medical Center Carswell near Fort Worth, Texas, for the remainder of her time in jail.
"Winner performed a public service by alerting the public and state officials to dangerous vulnerabilities in election infrastructure, and it's shameful the Justice Department would seek any prison time for her doing so—let alone the longest sentence for such an act in history," Timm said. Whereas previous whistleblowers have served significantly less time for leaking information to the press, Winner's 5-year sentencing, as Comey's memo suggests, "sends a message" to government employees seeking to work with journalists.