Sinemia Aims to Scoop Up MoviePass Refugees
A more reasonable ticketing experience that might actually last.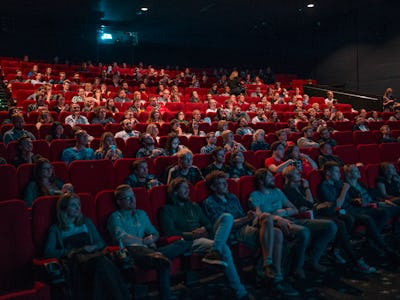 Unsplash / Krists Luhaers
Is there anything out there in the whole wide world that can fill that MoviePass-shaped hole in your heart? One thing is for certain there will be no shortage of attempts.
The good news is that the theater subscription services that aim to welcome MoviePass refugees will each offer their own differentiated plan. There's the recently launched AMC Stubs A-List service, impressive for its amenities and features MoviePass couldn't offer.
Another offering comes from Sinemia, which launched in February and focuses on quality moviegoing experiences over quantity.
"When MoviePass dropped its price, everyone kept asking me when I would drop my price to match," Sinemia's founder, Rifat Oguz tells Inverse. "But we will maintain the same price moving forward that is more expensive."
Oguz said this to me nonchalantly, confidently, as if he, like everyone else these days, knew that MoviePass dropping its price too low caused its inevitable downfall. But Oguz sees their mutual mission as a noble one for the film industry.
"The average moviegoer in the US goes 4-5 times a year," Oguz claimed (MPAA data shows the 18-24 year olds go 6.5 times year). "By doubling moviegoing, we make more money, the studio makes more money, and the theaters make more money."
Critical April 2019 Update: After trying a Sinemia membership for several months, I do not recommend it whatsoever. You still pay ticketing fees. If you don't check in at the theater they charge exorbitant fees. If you want a physical card you have to pay a fee. Ultimately, unless you always use every movie pass you get through the account, Sinemia actually costs you more money than just paying for a regular ticket.
Oguz considers his business model to be something different from MoviePass: "We are more a financial tech business instead of a movie ticketing service," he says.
That perspective, especially in terms of Sinemia's business model, is what sets it apart from MoviePass.
"From the start, we've built Sinemia with profitability and sustainability in mind," Oguz said in a July statement. "While we haven't grown as fast as MoviePass, we've grown steadily by offering two tickets for $9.99 with more flexible options and features, instead of unlimited tickets."
How Sinemia Works
The base concept for Sinemia is almost identical to MoviePass: With a subscription, members can purchase movie tickets via an app and use their membership credit card to buy the actual tickets. (Sinemia also offers a cardless option.)
Sinemia's pricing plans vary from $4 to $15 per month. The company also offers family memberships, so families of up to six people can go together.
As of this writing, MoviePass-addicted couples can sign up for a year-long membership to see two movies a month at what amounts to $15.99 a month (but they have to pay the full $191.88 up front). If they want only one movie a month, it's half the price.
Oguz claims that the average moviegoer, even one with a MoviePass unlimited subscription, only goes to the movies twice a month. So there's no real disadvantage to a business capping it at three showings.
Sinemia has addressed some of the major complaints with MoviePass. For one, 3D and IMAX tickets are an option — at about twice the price — along with advanced ticket purchasing and seat selection at available theaters. "This is what we dream about when we plan to leave our home and go to the movies," Oguz said, speaking of more premium viewing experiences like IMAX.
These days, with large MoviePass blackouts a daily struggle, Sinemia holds fast on its promise of no blackouts. And they want to expand.
When I spoke to Oguz in early August, MoviePass had only just begun its decline. "We don't want it to be just about going to the movies," he said. "We want to integrate Uber, popcorn, other experiences. We want to capture your experiences with one card." The Sinemia app links directly to the Uber app and automatically inputs the theater location, and there's even an option to pre-purchase popcorn, like pre-ordering your Starbucks coffee. In July, Sinemia began a partnership that gave all subscribers $25 in free Restaurant.com gift certificates each month.
As the many perks begin to stack up, even Sinemia starts to look too good to be true. That's because these various perks are not without practical caveats.
Perhaps one of the sneaky places that Sinemia earns its money is from miscellaneous fees that pop up. New users have to either agree to paying for a full year up front or pay an initiation fee to be enrolled in the monthly membership — kind of like signing up for the gym.
User reviews indicate that using Sinemia to buy tickets online via third-party services like Fandango or AMC.com results in a service charge. Average ticket prices might still fall below full cost, but it's still something to know.
On August 16, Sinemia rolled out a refer-a-friend program through which users earn $10 in Sinemia credit for every friend they recruit. With a large number of former MoviePass subscriber becoming stranded, now seems like an awfully good time to buddy-up and capitalize on that credit, especially when Sinemia's summer promotion ends Labor Day weekend.