AMC Stubs A-List Offers a More Premium Experience Than MoviePass
If MoviePass is flying coach, AMC's "Stubs A-List" is a first class seat.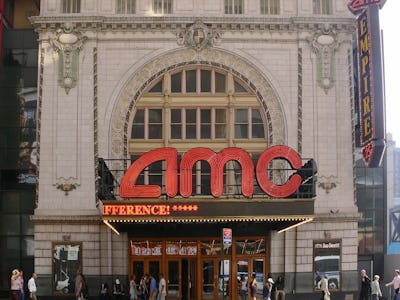 MoviePass
Movie theater chain AMC announced this week it will offer a new subscription service good at its 380 theaters, giving MoviePass serious competition with a service that's noticeably different — and maybe better for some — in a few key areas.
Called the AMC Stubs A-List, the service debuts on June 26 and offers some incredible perks for its members who will pay about $20 per month. It's essentially double the rate for MoviePass, but for a movie-goer who wants amenities and a few other differentiating features, it might be money well spent.
MoviePass, which started in 2011, made a huge splash in 2017 by hitting the reset button on its model. It introduced a $10-a-month subscription to see movies at some 91 percent of U.S. theaters (limit one movie per day and one movie-viewing experience per membership), but it has had many wondering if its new model is sustainable. Meanwhile, various changes to the service (like requiring users to take a photo of their ticket stub) haven't emboldened confidence in the venture.
MoviePass and AMC have been rivals since MoviePass switched to its subscription plan last year. This week, MoviePass shot back at AMC on Twitter after the announcement.
Before we get into the contrasts of each service, a word about what this might mean for AMC's bottom line: If it can match the 2 million subscribers claimed by MoviePass, it stands to add around $40 million to its coffers, good for just about 4.4 million orders of popcorn at the concession stand.
How is AMC Stubs A-List Different from MoviePass?
AMC is the biggest movie theater company in the world, claiming 8,380 screens in 2016. With the A-List tier, subscribers can see up to three movies a week, including multiple times in the same day, and even to the same movie. For example, if you want to see Dwayne Johnson in Skyscraper three times in one day (because why wouldn't you?), you can do that with A-List. If you had MoviePass, you'd only be able to see it once.
Also, AMC offers the opportunity book tickets online, in advance, including specific seats, so you can see IMAX and 3D versions, which aren't available with MoviePass. It should also be noted here that with MoviePass, a certain amount of planning is often required if you want to see a hyped movie during its busy opening weekend: Smart users would go the theater the morning of the movie, check in on the MoviePass app, acquire their tickets, and then return to the theater that night for the showing. It could be an annoying ritual for people with busy schedules. AMC also announced that its Stubs A-List users don't have to wait two weeks for their physical card to arrive in the mail.
With the A-List tier, you also get the "premiere tier perks," which include free upgrades on popcorn and soda, free popcorn refills, express service at concession lines and the box office, no online ticket fees, and point rewards.
The benefit of MoviePass is that it is available at far more theaters, but the perks and ease offered by AMC's Stubs A-List may be too appealing an option to pass up for some, especially those who live near an AMC theater anyway.