Here's What Angelina Jolie Should Direct Next
Some wildly inappropriate suggestions for her next movie.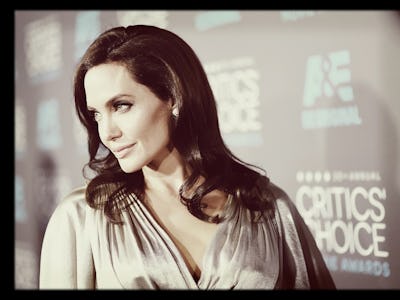 In The Land Of Blood And Honey. Unbroken. Africa. By The Sea. In under five years, Angelina Jolie has racked up four directorial credits. With the exception of the latter, in which she co-stars with Brad Pitt, her dedication to hard-hitting true-story dramas is becoming something of a trend. And she's now adding another weighty title to her resume. A Netflix exclusive, First They Killed My Father: A Daughter of Cambodia Remembers is based on a memoir by a Cambodian human rights activist who chronicled her first hand experience under the Khmer Rouge regime. It's a topic that's understandably close to Jolie's heart.
But what if she were to dabble in something beyond the remit of her wheelhouse? To venture outside of her comfort zone? That's where true discoveries are made. In the unknown. Here's a few suggestions for her next stint behind the camera.
A comic book movie
Available options: Justice League Dark, Captain Marvel
CBMs are the new video game adaptation. They're lucrative guarantees to giant studios like Marvel and Warner, who greenlight superhero ventures in batches, plotting out their future slates years and years in advance. Trouble is, there's a formula to this success, and tons of well-respected, uber-talented and just plain awesome directors have struggled creatively within those confines. But Jolie's got the right stuff. She's collaborated with Marvel's parent company on a number of big successes, and similarly with Warner.
Justice League Dark recently lost Guillermo Del Toro, the master of the macabre, and is now sitting in development with an apparently amazing script. Jolie's own past, of which she's openly discussed in public, would almost certainly add a level of realism to this creepier side of DC's universe.
And let's not forget: she's been linked to Captain Marvel for AGES.
A romantic comedy
Available options: Untitled Amy Schumer comedy, Amy Poehler basketball comedy, Balls
Let's shake off the seriousness. Even in her acting career, Jolie's seldom dipped into the lighter side of life. We're ignoring the dreadful Life or Something Like It. Dallying with less harrowing material might be just the change that Jolie needs to stir up the creative juices. She's shown her funnybone in the occasional line delivery or prop gag, but hasn't properly grappled with a flick where humor is number one on the agenda.
The two proposed movies are perfect vehicles to usher in a new era. Amy Schumer is white hot right now. Cool by association doesn't seem to interest Jolie. Progressing the visibility of women the world over is an issue that she champions fiercely. Why not combine the two?
A video game adaptation
Available options: Uncharted, Splinter Cell
Jolie is well acquainted with the task of adapting video game properties. Her starring turn in both Tomb Raider movies is credited with her sudden popularity in the early 2000s. And while the response to both was a little iffy, those reactions could definitely enable her to learn from those misfires.
Uncharted follows the exploits of Francis Drake's descendant, a treasure hunter by the name of Nathan Drake. Like Lara Croft he bounds from place to place in search of highly-sought after objects. It's an easy parallel to make but one that bears exploring…
A Star Wars spinoff
Available options: Star Wars Anthology #2
Josh Trank previously had dibs on this, the second Star Wars spinoff. Jolie's on good terms with Disney, who preside over Lucasfilm, after helping the studio bring in oodles of cash on Maleficent. She knows how important back story is to a character, something that every Star Wars fan can take comfort in, and isn't afraid to venture into edgier territory when necessary.
Lucasfilm president Kathleen Kennedy was asked about the presence of women in the future Star Wars movies at this year's Comic-Con. She responded with regards to onscreen roles — so why not hire a woman to direct one of the spinoffs? If Trank, a director with two credits to his name, got the gig, then Jolie's more than qualified.
A horror flick
Available options: IT, Universal's Van Helsing/Wolf Man reboots
The number of horrors directed by women is larger than you might think - Mary Harron, Claire Denis, Jen & Sylvia Soska and Jennifer Kent are but a few of the talented female filmmakers who've lent their hand to the genre. One of the advantages to crafting suspense is the budget - if you're skilled you don't need special effects to make someone fill his/her trousers.
There's naturally a boatload of dross floating around due to the low-budget benefits, but for a filmmaker like Jolie a higher-profile pic might be a good first step into the arena. Universal's revitalised monster-verse currently has two reboots without directors, and there's always New Line's IT remake.