Revolut Launches Cryptocurrency Cashback on All Purchases With Metal Card
The scheme offers returns in one of five cryptocurrencies.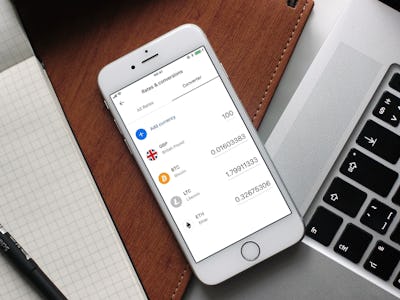 Revolut
A new scheme is promising to give users cryptocurrency back on every transaction. Revolut, the futuristic money app that plans a United States launch in the coming months, announced on Wednesday the launch of a metal payment card that will give consumers cashback in one of five cryptocurrencies or 25 fiat currencies.
"We're making crypto exposure accessible to the wider public, providing customers with a seamless experience that traditionally was time-consuming and expensive," Nikolay Storonsky, founder and CEO of Revolut, tells Inverse. With hundreds of thousands of customers now actively exchanging cryptocurrencies in the app, we're offering them another way to gain easy exposure to crypto through cashback."
Revolut is one of a number of "challenger banks" that have made waves in the United Kingdom by offering seamless low-rate spending abroad and sleek smartphone-only operations, a grouping that also includes Starling and Monzo. While currently available in the European Union and European Free Trade Association, Revolut plans to launch in the United States, Canada, Hong Kong, Singapore, Australia and New Zealand later this year.
The Revolut Metal card will give consumers up to one percent on transactions from outside of Europe, or 0.1 percent on transactions made inside Europe. While users can ask for this cashback in fiat currency, they can also request it in the form of Bitcoin, Ether, Litecoin, Bitcoin Cash and Ripple. The scheme is similar to one Dash announced in May, offering Rewards.com crypto for spending in over 7,000 merchants, an idea Dash's Bradley Zastrow described to Inverse as "a way for mainstream people to start dipping their toe into cryptocurrency."
Revolut's Metal card itself is designed for a more premium look. It weighs three times more than a standard debit card, with reinforced steel crafted with a diamond drill bit. A physical vapor deposition layers paint particles onto the card, before the details are etched with a laser:
Revolut's basic tier of service is free, but the company offers a £6.99 ($9) per month premium tier that doubles the amount users can withdraw for free from ATMs to £400 ($515) or €400 ($462) per month, alongside bonuses like faster bank transfers, disposable virtual cards, overseas medical and delayed flight insurance.
The Metal tier offers the same benefits and more for a rate of £12.99 ($16.73) per month. Alongside the cashback benefits, this raises the free monthly ATM withdrawal limit to £600 ($772.53) or €600 ($693.64), and adds a concierge service for bookings like flights and festival tickets. Revolut plans to add more bonuses in future like wholesale rates for airport lounges and incentives for the firm's upcoming commission-free trading platform that will enable users to buy and sell stocks in the app.
The card is launching as the company gears up to expand to further markets, which could enable the firm's crypto transaction offerings to reach even more consumers.
"U.S. expansion is a huge project for us, and we're excited to launch in a market with so much potential," Storonsky told Inverse last month. "As we reach one million users in the U.K., and over 2.25 million across Europe, we are extremely confident that we will experience even higher demand across North America."
While it seems like a big moment for cryptocurrency adoption, Revolut has a mixed reputation in the community. Revolut's cryptocurrency feature has received criticism for not enabling transfers from wallet to wallet, a missing feature that hinders the use of the cryptocurrency as a decentralized, freely-spendable digital currency.