The Science of Why Post Malone's Plane Had to Circle Before Emergency Landing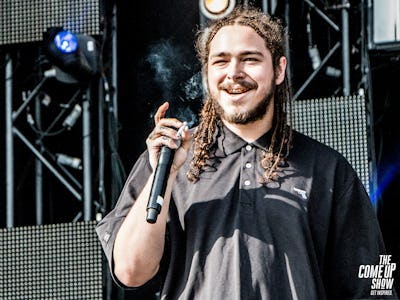 Flickr / thecomeupshow
A private jet carrying rap artist Post Malone and 15 other travelers executed an emergency landing Tuesday after two of the aircraft's tires blew out on takeoff. The plane touched down at Stewart International Airport in New Windsor, New York — but not before circling above New Jersey's Teterboro airport for a half-hour and two landing diversions.
The pilot of the Gulfstream IV aircraft was forced to meander in the sky for over an hour in order to make a safe approach to the airport. TMZ acquired a recording of the pilot speaking to air traffic control requesting permission to burn off 3,700 gallons of fuel before attempting to make an emergency landing. If the plane was too heavy with fuel, it wouldn't be able to land safely. While it sounds pretty alarming, it's a standard procedure. The reasons the tires blew out weren't immediately clear on Tuesday,
Commercial and private aircrafts typically liftoff near what is referred to as the "maximum takeoff weight," or the heaviest they can possibly in order to safely get off the ground. And they must always land below their maximum structural landing weight, which is how much the plane can weight upon landing without it suffering damage.
On a normal flight path, planes take off heavier than when they land because they burn their fuel in transit. But if an aircraft is forced to land shortly after takeoff it must either dump a majority of its fuel or burn it off, like the pilot of Post Malone's flight.
Dumping is reserved for situations when a plane needs to get on the ground as quickly as possible. In this case, only the landing gear suffered damage allowing the pilot to fly around for a bit to shed some fuel before landing under the plane's maximum structural landing weight.
Post Malone fans and onlookers watched the irregular flightpath nervously using the tracking website, Flightradar24. But the pilot was simply sticking to emergency protocol.
After landing, the rapper shared a message with his fans on Twitter: "I landed guys. Thank you for your prayers. Can't believe how many people wished death on me on this website. Fuck you. But not today."