Batwoman's Greatest Competition as a Detective Seems Like a Stretch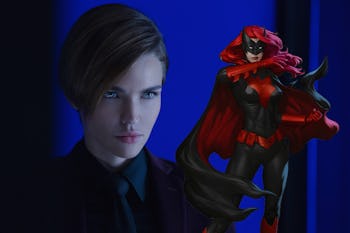 Lionsgate / DC Comics
When Ruby Rose joins the Arrowverse as Kate Kane, aka Batwoman, later this year, she'll get a surprising amount of competition as a crimefighting detective from none other than the Elongated Man. Somehow, the goofy Ralph Dibny is actually one of the best detectives in the world, according to DC Comics canon. Yeah, it's a bit of a stretch.
Earlier this month, The Flash Executive Producer Todd Hellbing spoke to Newsarama about how the Elongated Man will better mirror his DC Comics counterpart in Season 5 by showcasing his excellent detective skills. "Ralph is going to be doing a lot more detecting this year than he did last season," Hellbing said, "and I think the description of Elongated Man was that he has the detective skills that rivals Batman's. So we want to get him on his journey in that regard this season."
Obviously Bruce Wayne's detective skills are second to none, so if Ralph Dibny's skills rivals Batman's, then how do they stand up compared to Batwoman's?
Considering we've only heard hints of Batman existing in the greater Arrowverse — including Oliver Queen namedropping Bruce Wayne early in Arrow Season 6 — we don't know for sure if Batman even exists on Earth-1. (Bruce Wayne definitely does, but Batman remains unconfirmed.) Supergirl once hinted that Superman has worked with a brooding vigilante over in Earth-38, but that's a whole other reality. So it's possible that right now, Ralph Dibny will live up to his reputation as Earth-1's greatest detective in The Flash Season 5 — that is, until Kate Kane enters the scene.
Hartley Sawyer, who plays Ralph Dibny on The Flash, was upgraded to series regular for Season 5, so he'll have plenty of room to flex — or elongate — those detective muscles. Assuming Kate Kane also exists in the Earth-1 version of Gotham and not in some other world, then she could be the only person in the entire world that might beat the Elongated Man in terms of detective skills.
Dibny spent most of The Flash Season 4 as a bumbling buffoon, a police detective turned disgraced private investigator that Barry Allen initially despised. But by season's end, Ralph became one of Barry's closest and most powerful allies in the fight against the Thinker. So it looks like he'll move from bumbling sidekick to full-on mastermind detective in Season 5. But could he possibly be better than Batwoman? Probably not, but we're willing to let him try.
The Flash Season 5 will premiere on The CW Tuesday, October 9 at 8 p.m. Eastern with Batwoman slated to appear in the December Arrowverse crossover.
Rewatch the San Diego Comic-Con trailer for The Flash Season 5 right here: