How Kofi Annan Established the World's Largest Fund for HIV/AIDS Prevention
"We must deliver scientific breakthroughs."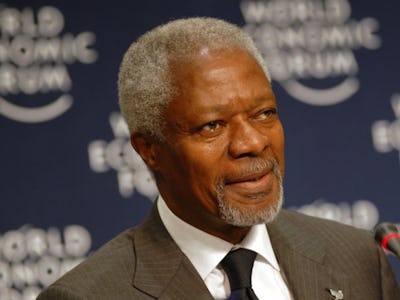 Wikicommons
The death of Kofi Annan, the former Secretary-General and first black African to lead the United Nations, has prompted loved ones to reflect on his lifelong commitment to humanitarian aid. While the Nobel Peace Prize recipient is best known for establishing the Kofi Annan Foundation and serving as chairman of the Elders, an international organization founded by Nelson Mandela, Annan also established The Global Fund, the world's largest financial backer of research, prevention, and treatment tools in the fight against HIV/AIDS.
On Saturday, The Kofi Annan Foundation confirmed its founder's death in a statement posted on Twitter. Annan, who was born in Ghana in 1938, served as the seventh UN Secretary-General from 1997 to 2006, but started his career with the international body in 1962 when he joined the World Health Organization. Throughout his years in the UN, he saw how epidemics such as HIV/AIDS, tuberculosis, and malaria stood in the way of global development, which he would later make a priority as Secretary-General.
After years in public health, Annan, who had a degree in economics, wanted to bring global attention to the ways in which an untreated epidemic directly affects the UN's development agenda in Africa's poorest nations. In April 2001, Annan stood before Nigerian President Obasanjo and other UN officials at the African Summit on HIV/AIDS, Tuberculosis, and Other Infectious Diseases in Abuja, Nigeria and proposed a global AIDS fund.
"This is a conference about Africa's future," Annan said before unveiling his action plan to fight the pandemic. "AIDS has become not only the primary cause of death on this continent, but our biggest development challenge. And that is why I have made the battle against it my personal priority."
Annan's call to action against the AIDS epidemic first addressed ways to improve prevention in developing nations through education. He also acknowledged the dire need of improving underprivileged people's access to medication and sought to work with pharmaceutical companies in offering medications to developing nations at greatly reduced prices.
Annan also championed the advancement of scientific research on the virus. "We must deliver scientific breakthroughs," he said in the proposal. "We are still a long way from finding a cure for HIV/AIDS, and a long way from finding a vaccine against it. We must make sure that the search is given the highest priority in scientific budgets, and be ready, as soon as it produces results, to make them available where they are most needed — not only to those who can afford them."
Recognizing the money was needed for build awareness campaigns and fund research, Annan requested that the United Nations spend an additional seven-to-ten billion dollars a year on the struggle against HIV/AIDS over an extended period of time. By June of 2001, the UN General Assembly approved the action plan and the permanent secretariat of the Global Fund to Fight AIDS, Tuberculosis, and Malaria (usually shortened to just the Global Fund) was established the following year.
The Global Fund is now considered the world's largest fund to support the prevention and treatment of AIDS and other epidemics, having dispersed more than 33 billion dollars in aid to countries facing health crises since its creation. According to the organization, it has supported 11 million people on antiretroviral therapy for AIDS and saved 22 million lives worldwide.
"So this is a moment of hope, and potentially a turning point," Annan said of establishing The Global Fund. "We can defeat the scourge of HIV/AIDS. For the sake of Africa's future, we must."