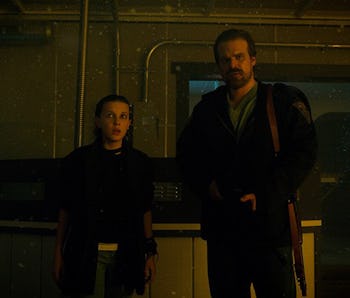 Entertainment
'Stranger Things' Actor Reveals Exciting New Plot for Eleven and Hopper
Netflix
Stranger Things Season 3 is set to release some time next summer. That's a long time to wait before we can finally head back to 1980s Hawkins, Indiana, but in the meantime, a new interview with David Harbour (Jim Hopper on the Netflix series) is offering fans a taste of what's to come when the Stranger Things Season 3 release date finally arrives.
In an interview with The Hollywood Reporter, Harbour teased the plot of Season 3, hinting that there could be some big changes coming next summer.
"The scripts are really great this year," he said. "And in the new directions that we're going, all of us are taking a lot of risks. We're all a little bit out of our comfort zone."
When asked to describe where the new season of Stranger Things is headed, Harbour simply said it's too big to characterize. However, he did tease a potential new plotline for one of the show's main characters: Eleven (played by Millie Bobby Brown).
"Just taking my story, for example, it's fun to see Hopper having adopted Eleven," Harbour said. "She's become legitimized in the society, in the world of Hawkins. And he's a father now. He's raising a teenage daughter, with all that that entails. So I think that can be pretty funny to see his inadequacies in all of this."
There's a lot to unpack there, but it sounds like Eleven may finally get some sort of semblance of a normal life in Stranger Things Season 3. That normality may also trickle down to Hopper, who's able to embrace his new role as a father figure after last season's drama.
Of course, this is Stranger Things, so it's probably only a matter of time before some monsters show up and everything goes to hell.
You can check out the full interview, which also reveals what Harbour was doing when he learned about his recent Emmy nomination (watching his dog poop) and the craziest fan interaction he's ever had (she destroyed an airplane bathroom and had to be restrained).
Stranger Things Season 3 premieres next summer in 2019.