3 Iconic Cantinflas Movies and How to Stream Them
Find the classics while they're still online.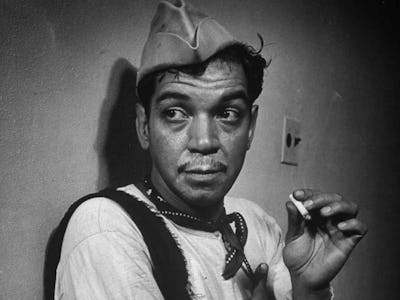 Whereas performers such as Maria Felix and Luis Aguilar added glamour to the golden age of Mexican cinema, Cantinflas was known for infusing the genre with his own brand of comedy. He was considered "the best comedian alive" by Charlie Chaplin with roles that spanned decades, languages, and styles, creating an overwhelming canon of work.
On Sunday, Google dedicated a Doodle to Mario Moreno Reyes, better known as Cantinflas, to celebrate what would have been the actor's 107th birthday. Born in Santa María la Redonda, Mexico in 1911, Cantinflas' difficult upbringing informed many of his characters who often face financial adversities, such as the slum-dwelling persona he developed while performing in the circus. He transitioned to film in 1937, at a time when Mexico's film industry was earning critical praise for its cinematography and dialogue.
During his five-decade-long career, Cantinflas received a Golden Globe for Best Actor in a Motion Picture or Comedy and earned a star on Hollywood's Walk of Fame. While the comic legend starred in dozens of films in Mexico and three in the United States, only some of his most iconic works are streaming today.
1. No Te Engañes Corazón (Don't Fool Yourself Dear)
The 1937 film is Cantinflas' first feature-length film which creates a great starting point for anyone wanting to see his evolution as an actor. From the very start of his film career, Cantinflas was able to infuse slapstick comedy to an otherwise dramatic plot, as evident in a film that depicts a man's final days before he is diagnosed with a deadly disease. Don Boni, played by Carlos Orellana, intends to spend his last days doing good for others until he gets drunk wakes up with a winning lottery ticket. Stream it on Amazon.
2. Around the World in 80 Days
The 1956 film based on the Jules Verne novel is just one of three America films from Cantinflas and stands out for establishing his versatility as an actor and winning him the Golden Globe. As Passepartout, Cantinflas provides comic relief as he races across the world alongside in Phileas Fogg, played by David Niven. The film can be streamed on Amazon and iTunes.
3. Su Excelencia (Your Excellency)
By the 1960s, Cantinflas was able to tackle political themes and became known for his work in satire. The political allegory Su Excelencia is probably his best known political comedy and became one of his most successful films of the decade. Cantinflas stars as a bureaucrat from the fictional Republica De Los Cocos who must decide the fate of his country by either joining Dolaronia, a stand-in for the US and capitalism, or Pepeslavia, a dig at the Soviet Union. The future dystopia is not only a space for great satire but lets Cantinflas tackle geopolitical issues and challenge the two superpowers. Stream it on Amazon or Xfinity.