How María Félix Dominated the Golden Age of Mexican Cinema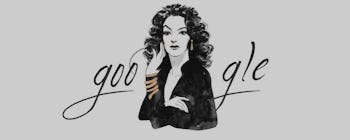 Google
Sunday's Google Doodle pays tribute to an iconic Mexican movie star whose beauty inspired famous artists, but her independence and toughness made her legendary.
María Félix, born on April 8, 1914, was a star during the Golden Age of Mexican cinema from 1933 to 1964. She starred in 47 films in Mexico, Spain, Italy, France, and Argentina, with her most recognizable role in the 1943 film Doña Bárbara as the title character, which led her to be known simply as "La Doña." She was the inspiration for artists, writers, filmmakers and musicians, including Diego Rivera, Juan Gabriel, and Jean Cocteau. Fashion designers such as Christian Dior, Chanel, and Cartier Paris made items just for her.
Félix was one of 11 children in her birth city of Álamos. In her teen years, her family moved to Guadalajara, where her beauty began being recognized and eventually won her the title of beauty queen of the University of Guadalajara. After a divorce from her first husband in 1937, she moved to Mexico City, where she worked as a receptionist for a plastic surgeon who used her as a model for what he could do for patients. It was a random encounter on the street one day with a filmmaker Fernando Palacios that started her career in films. He asked if she wanted to make movies, to which she reportedly responded: "When I want to, it will be through the big door."
Her first starring role was 1942's El Peñón de las Ánimas, which she co-starred with the already famous Jorge Negrete. The two initially butted heads during filming but eventually married in 1952. She received the lead role in Doña Bárbara when the writer of the novel that inspired the movie, Rómulo Gallegos, saw Félix and declared, "Here is my Doña Bárbara!"
Later in the Forties and Fifties, she starred in movies in Spain, Argentina, Italy, and France, but made her return to Mexico in 1955. Her last film came in 1970 with La Generala. She also released two albums, La Voz de María y la Inspiración de Agustín in 1964 and Enamorada in 1998. Maria Félix died in her sleep on her birthday in 2002 at the age of 88 and was memorialized Sunday by Google on what would have been her 104th birthday.
Although she did not star in a Hollywood film, even though multiple roles were offered to her, Félix became an international star without any compromise.