Tesla Rival Nikola Has Raised a Huge Sum to Build Biggest Hydrogen Network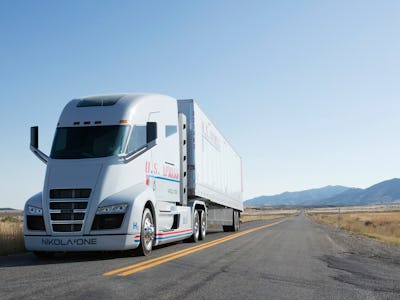 Nikola
Nikola, which is taking on Tesla in the renewables-powered trucking space, announced this week that it has raised more than $100 million this month as part of a $200 million Series C round of funding. The firm, which boasts a pre-money valuation of $1.1 billion, is seeking to launch a hydrogen-powered truck called the Nikola One.
The firm has faced skepticism for its plans, as the truck will depend on refueling infrastructure for its success. CEO Trevor Milton claims that this year alone, Nikola has started plans "to build the largest hydrogen network in the world" with Nel hydrogen. It's also developed "the most energy dense battery system on the market" that offers 400 watt-hours per liter, plus created a fuel cell 240 kilowatt-hour capacity. The company plans to launch the first 14 hydrogen stations in the United States and Canada by 2021, a figure that will jump to 700 stations by 2028. These stations will offer up to 8,000 kilograms of hydrogen per day, and other manufacturers are welcome to use the stations at around $6 per kilogram.
Central to this plan is the One, a truck with 65,000 pounds of payload capacity, up to 1,000 horsepower, up to 2,000 foot-pounds of torque and between 500 to 1,200 miles of range from each refill that takes under 20 minutes. While previous marketing literature suggested a price of $375,000, the website now lists it as "TBD." However, Nikola highlights savings of up to $30,000 per month thanks to 2,000 pounds of chassis weight saved, plus up to two to three times more miles per gallon than a conventional truck. The firm already has around $11 billion in reservations.
Nikola's big rival in the space is Tesla, which revealed its all-electric Semi truck in November 2017. This offers 300 miles of range on the $150,000 model and 500 miles on the $180,000 model. It has an energy consumption of under two kilowatts per mile and acceleration from 0 to 60 mph with 80,000 pounds of weight in just 20 seconds. Solar-powered "megachargers" placed every 400 miles will recharge the truck in 30 minutes. It seems cool, but Nikola's not happy, with the company Twitter account posting a series of angry tweets at the reveal, followed by legal action against Tesla in May for $2 billion.
Nikola plans to announce its next event in two to three weeks' time. The event will be held in Phoenix, Arizona, next year, and will give companies and investors a chance to see the firm's latest products. Nikola recently announced the construction of a 150,000 square foot headquarters in the state.
"To say we have come a long way in 2018 is an understatement," said Nikola chief financial officer Kim Brady. "Now imagine Nikola in 2019. Who wouldn't want to be part of this company's story?"