Why Tesla Semi Competitor Nikola is Suing for $2 Billion
The company claims Tesla ripped off the design for its green energy truck.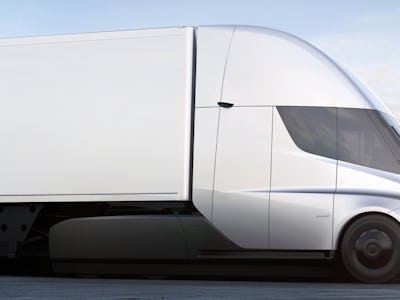 Tesla
Tesla is facing legal action from Nikola Motors over the design of its Semi electric truck, according to court documents published Tuesday. Nikola, a Salt Lake City-based startup, claims the design of its $375,000 hydrogen-powered One vehicle inspired the $150,000 Tesla Semi all-electric truck announced in November 2017. It claims that the company has been harmed by Tesla's infringement in excess of $2 billion.
A Nikola Motors spokesperson tells Inverse that the company "has no formal comment since it is a pending legal case," and that it is "protecting its intellectual property and the lawsuit speaks for itself."
"It's patently obvious there is no merit to this lawsuit," a Tesla spokesperson tells Inverse.
The lawsuit claims Nikola sent a letter to Tesla on November 7, nine days before the unveiling, that the company identified patented design features and demanded Tesla to not unveil its truck. Nikola was quiet about this action in public, though — on November 15, the day before the unveiling, Milton told Inverse that the Tesla Semi would be "good for the industry, very bad for Tesla's balance sheet and good for Nikola […] we are happy either way." A series of deleted Twitter posts from a Nikola employee during Musk's reveal criticized his claims of up to 500 miles range, suggesting 200 miles was more likely. Milton told Inverse after the reveal that "we look forward to Tesla's fleet customers reporting their numbers from road testing," and in a follow-up Twitter post, he mentioned that trucks "[take] countless hours to design and engineer."
The court documents outline Nikola's steps from filing a patent for its designs in December 2015, unveiling the design on May 9, 2016, and unveiling a live prototype to a crowd of 600 journalists at its headquarters on December 1, 2016. The company claims it received orders to the value of $4 billion, while Tesla's June 2016 earnings report showed a loss of $272.6 million.
Nikola then references Musk's Master Plan Part Deux, published on July 20, 2016, that announces an electric truck will be unveiled the following year. Tesla released a teaser image in April 2017 of the truck, with an unveiling planned for November. In the days after the unveiling at the Tesla Design Studio in Hawthorne, California, Tesla's market share jumped $2 billion.
Nikola notes a number of design similarities in the documents including a wrap windshield, an aerodynamic look that enables a similar drag coefficient (0.37 for the One and 0.36 for the Semi) and a mid-entry door:
The court papers even document CEO Trevor Milton's long-held ambition to revolutionize trucking, stating that "from childhood [he] wanted to revolutionize the trucking industry by decreasing the trucking industry's reliance on fossil fuels."
The news comes just days before Nikola Motors makes an announcement in New York:
The company stated in the court documents that it plans to move its headquarters to Arizona in July, spending $15 million to build a 130,000-square-foot building in Phoenix plus a million-square-foot manufacturing plant in Buckeye. The lawsuit, which demands a jury trial, has been filed with the United States District Court in Arizona.
The Tesla Semi is set to hit the roads next year, while the court documents claim the Nikola One will enter production in 2020.