Tesla Autopilot Gets a Free 14-Day Trial Ahead of Full Self-Driving Rollout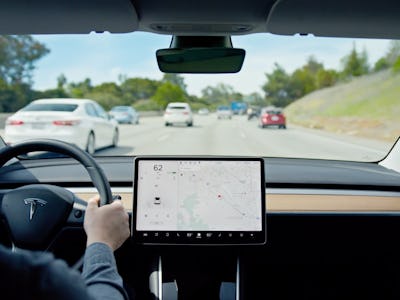 Tesla
Tesla took the wraps off its semi-autonomous Autopilot free trial this week, two months after CEO Elon Musk told the annual shareholders' meeting that the company would give people a chance to "see how well it works." The 14-day trial means owners of a Tesla car will have the ability to try the feature before committing to the asking price, and it comes as Musk prepares to start rolling out full autonomy features.
"During the trial, you'll experience our most advanced driver assistance features, including: Autosteer – Assisted steering within your lane Traffic – Aware Cruise Control – Cruise control that matches the speed to traffic – Auto Lane Change – Assisted lane changes while driving on the highway – Summon – Automatically park and retrieve your vehicle – Autopark – Parallel and perpendicular parking, with a single touch," Tesla wrote in an email to eligible owners that was seen by Electrek. "Please only enable these features if you will pay attention to the road, keep your hands on the steering wheel, and be prepared to take over at all times."
See more: Tesla Autopilot: Fans Can Soon Try the New Autopilot Update for Free
Tesla explained on its support page that over the next several weeks, drivers will receive an in-car notification that their 14-day trial has automatically started, with the option to opt out. Users with software update 2018.28.1 will receive access to the trial. The car will offer users the option to purchase the Autopilot upgrade at any time: $5,000 for cars manufactured before October 2016 running the Mobileye-based Autopilot, or $6,000 for cars made after that date with Tesla's in-house "enhanced Autopilot."
The trial comes just before the launch of the ninth version of Autopilot, set to bring a slew of safety features and upgrades to the system, slated for a September release. Musk told the shareholder meeting that "the reliability and capability of Autopilot will increase exponentially over the next six to 12 months. It's really, the improvements are very, very rapid."
Cars that support "enhanced Autopilot" also contain the necessary sensors and cameras to support "full self-driving," available as a pre-order for an extra $3,000. Musk claimed this week that the chip to enable these more advanced features would start shipping in the next four to six months.
A successful Autopilot trial could convince more owners of capable cars to take up the feature, with 310,695 supported cars on the road. A Tesla source told Electrek last year that around 77 percent of eligible owners have paid for "enhanced Autopilot"."