Bitcoin Price Plummets Erasing $9 Billion in Value From Its Summer Rally
Bad news from regulators.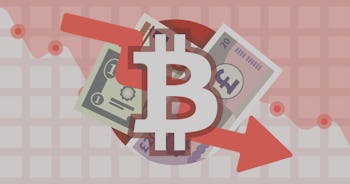 Flickr / Descryptive
For much of the summer it's been smooth sailing for bitcoin. Heavy hitters are trying to bring crypto to a much bigger audience, and the enthusiasm helped send prices for bitcoin back above $8,000 per coin for the first time since May. But the pendulum swung again on Wednesday on bad news from regulators, sending the price of bitcoin down to below $6,500 by about 11:00 a.m. EST, according to CoinMarketCap.
Specifically, US regulators postponed a decision about the development of a bitcoin exchange traded fund, an attempt to make crypto investing less risky by letting people buy funds that track bitcoin's price on regulated exchanges. As CNBC noted, at one point Wednesday the decision helped drive a selloff that had erased about $9 billion of its value..
As has often been the case, what's been bad for bitcoin has also shifted the sentiment for other crypto assets and tokens. All of the top 10 crypto assets by market cap were seeing red Wednesday morning, some of them significantly so, with the exception of Tether, an altcoin that's pegged to the US dollar and has a bit of a sketchy history.
When Will Bitcoin Price Recover?
A lot of hope is being pegged on these so-called crypto ETFs, because bitcoin is still perceived as being too risky to the vast majority of the general public, according to a recent investor survey from Gallup. Making it easier for people to buy lots of different crypto investments at a cheaper price point has been a key priority for some big crypto players like Cameron and Tyler Winklevoss, whose attempts to form an ETF through their Gemini Fund have been rejected by the SEC twice.
The SEC's latest postponement was in response to a dual effort from two firms — VanEck and Solid X — currently amidst their third attempt to seek regulatory approval. The final devision on this latest crypto fund has been kicked to the end of September.
As CoinDesk's Omkar Godbole put it, the timing of this latest sell-off "reinforces the view that a major part of the rally seen in July was likely fueled by speculation that a Bitcoin ETF could be approved by the US SEC within weeks."
Of course, a postponement is only a minor setback, and the SEC's regulatory rejections have done little to dissuade other players from trying to find an in for crypto with the US's top securities regulator.