Nintendo Adds 5 New Fighters to the 'Smash Bros. Ultimate' Roster
Everything you need to know about the new challengers.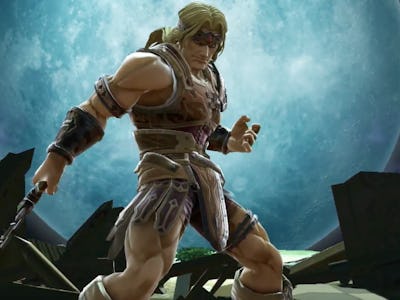 Nintendo
After months of speculation, Nintendo finally put the rumors to rest. Simon Belmont of the Castlevania games will officially be joining the Super Smash Bros. Ultimate roster. The third-party newcomer was announced during a Nintendo Direct presentation on August 8, but the company actually leaked its big reveal just a few hours earlier.
Nintendo announced the news with a well-produced video at the start of the Direct, in which Simon shows up to protect Luigi from a spooky ghost (sidenote: did Luigi die in this video). Simon's primary weapon is a metal whip with a long range of attack. He can also throw holy water, along with other special attacks.
Aside from Simon Belmont, Super Smash Bros. Ultimate also adds Richter Belmont, also from Castlevania, as an Echo fighter version of Simon. There's also a new Castlevania stage featuring music from the series and various monsters, including rare appearances from Dracula.
Additionally, the company announced two more Echo fighters: Chrom and Dark Samus. Chrom comes from the Fire Emblem series and plays like Marth and Roy. Meanwhile, Dark Samus is a variation of the classic Metroid Prime hero.
Finally, at the very end of the Direct, Nintendo revealed one more new fighter: King. K Rool. The Donkey Kong villain is a long-rumored addition to the Smash Bros Ultimate roster with heavy attacks similar to DK himself along with a Blunderbuss gun and a helicopter-backpack for recoveries.
Simon Leaks Early
Late last night, Nintendo appeared to change the title for one of the music tracks from the Super Smash Bros. YouTube channel to "Bloody Tears/Monster Dance," two well-known songs from Castlevania II: Simon's Quest that launched on the NES in 1987. Nintendo quickly corrected the mistake, but it was too late.
Of course, the addition of Simon Belmont to the Super Smash Bros. Ultimate roster isn't exactly a surprise either. The vampire killer has been at the center of plenty of leaks and rumors when it comes to new characters for Nintendo's fighting game franchise. One trusted leaker even went so far as to say that you should trust any other leaks that don't include Simon.
With another Nintendo Direct on the books, the company is doing a great job of building hype for Smash Bros. Ultimate. But with five months still to go before the game actually launches, there's plenty of time for even more roster additions — and the rumors and leaks that precede them.
Super Smash Bros. Ultimate launches December 7 for Nintendo Switch.