Getting Rid of Cable Has Never Been Cheaper
Even if you're a cord-cutter who just watches Frasier episodes on Netflix, you can do better.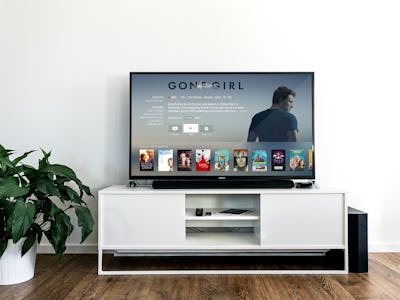 Unsplash / Jens Kreuter
A recent study claims that nearly half of all millennials don't watch TV in the "traditional" sense anymore. That is: Live appointment TV; sitting down for an episode of Game of Thrones as it airs on HBO, rather than through a digital service days, hours, or even a couple minutes later.
Even for the staunchest cord cutter, having a decent TV set-up is key to living in modern times. You still have to have a good rig to experience Black Panther at home, right? You still want to watch Westworld on something other than a dusty laptop screen. We've got you covered.
Easily the most convenient and accessible way to get all kinda of content on your TV without a bunch of wires and gadgets is the Amazon Fire TV 4K, or, if you're not on that Ultra-HD tip yet, the HD model for less than 40 bucks. It makes a smart TV look like a dumb TV, and turns even the most dated LCD model into the media hub of your dreams. Just plug it into an HDMI port, connect it to your wifi, and you'll be able to experience movies, TV, and vine compilations on YouTube the way they were (kinda) meant to be seen. It's one of the best investments I've ever made, along with my Hulu (No Ads) subscription and the Netflix account I still siphon off from my parents (nobody's perfect).
Another investment I made was in the cable-alternative streaming service DirecTV Now, which straight-up rules. There's something comforting about returning to the fold of "live" TV after all these years of hand-picking Brooklyn Nine-Nine episodes to watch. Moreover, a subscription to DirecTV Now allows you to sign in to all the other networks' proprietary sites to watch their content as if it were a regular cable provider. Go forth and stream The Simpsons on FX's extensive service for the series. Or whatever else you want to do.